As the holiday season approaches, PHR will take a look at what teams are thankful for as the season heads past the one-quarter mark. There also might be a few things your team would like down the road. Let's take a look at what's gone well in the early going and what could improve as the season rolls on for the Boston Bruins. 
What are the Bruins most thankful for?
Defensive depth.  To say that Boston has been hit hard with injuries on their back end would be a significant understatement as no fewer than eight different blueliners have missed multiple games.  Despite that, they find themselves in sole possession of the top Wild Card spot in the Eastern Conference despite icing a defense corps with several minor leaguers as a result of the injuries.  That has them well-positioned to make a run to move up as their regulars return while also giving GM Don Sweeney (and other general managers around the league) a chance to evaluate the development and readiness of some of their younger defenders.
Who are the Bruins most thankful for?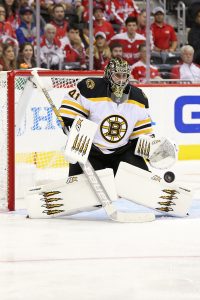 Goaltender Jaroslav Halak was brought in to give them a capable backup that could push Tuukka Rask for starts.  It's safe to say he has provided that and more so far.  The 33-year-old has vastly outperformed Rask in the early going and has essentially taken over the number one role by posting a stellar 1.98 GAA and a .939 SV%.  Halak has been a significant reason why the Bruins, despite all of their injuries on the back end, have allowed the fewest goals in the league.  His two-year, $5.5MM contract that he signed back in July is proving to be a real bargain so far.
The team also has to be thankful for having one of the elite top lines in the league.  David Pastrnak, Brad Marchand, and Patrice Bergeron have been dominant once again, all averaging over a point-per-game.  (Unfortunately for the Bruins, this line will be out of commission for a while with Bergeron expected to miss the better part of a month due to a rib and sternoclavicular injury.)
What would the Bruins be even more thankful for?
More production from their secondary scorers.  On top of their top three forwards, David Krejci has 17 points which is solid but just two of those are goals.  Jake DeBrusk rounds out their top-five scorers up front with 11 points (though only two of those are assists).  After that, however, it drops rather quickly with no other attacker having more than five points.  They were hoping that youngsters Danton Heinen, Anders Bjork, and Ryan Donato would be regular contributors but the trio have combined for just four goals and five assists in 50 games combined with Donato getting dispatched to the minors.  David Backes has just a single helper in 17 contests which is a terrible return for $6MM per year.  Sweeney paid a high price last year to land Rick Nash to boost their attack but they would be a lot better off if some of these scuffling players started to shoulder more of the offensive load.
What should be on the Bruins' Holiday Wish List?
First and foremost, they need more scoring depth.  They have been on the lookout for help up front (with a preference for a center) dating back to the start of the season and adding someone would boost their middle six while ideally helping some of their struggling forwards get back on track as well.
Given the injuries they've had on the back end, it wouldn't be a bad idea for Sweeney to look to add a veteran defenseman that could be stashed at AHL Providence to give them a little bit more insurance if they happen to have more injury woes as the season goes on.  That way, they won't necessarily have to call on players that aren't quite NHL ready if they find themselves in need of help while jockeying for playoff seeding down the stretch.
Photo courtesy of USA Today Sports Images.