Despite the dark cloud that has hovered over the Ottawa Senators for more than a year, the team now finds themselves at 6-6-3 on the season after a big win last night against the New Jersey Devils. That win was important to show the team's resilience after the latest public scandal that included a recorded conversation of players badmouthing their coaching staff. Interestingly, as Bob McKenzie of TSN notes on the latest edition of Insider Trading, one of the players involved in that video was Matt Duchene who is currently in a contract negotiation with the team. McKenzie reports that Duchene's agent and Ottawa GM Pierre Dorion are in "substantive contract talks" and that there is interest from both sides in at least discussing a long-term extension.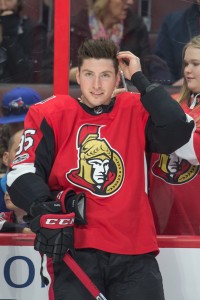 As we examined recently, Duchene's future with the Senators is perhaps the single most important decision that Dorion has to make this season. The team gave up a large package of assets to bring him to Ottawa that included Kyle Turris, prospect Shane Bowers and infamously an unprotected first-round pick. At the time, it looked like Duchene was acquired as the missing piece of a puzzle that was closer to the Stanley Cup finals than the draft lottery, but basically everything has gone downhill since then. Now in the final year of his contract, Duchene is potentially one of the top names available in the 2019 unrestricted free agent class and could be a valuable trade chip at the deadline if no extension is reached.
Still just 27 years old, despite now being in his tenth full NHL season, Duchene is off to a fast start. With 15 points in 15 games he is well on his way to one of the best seasons of his career, something that would set him up for a huge windfall in free agency. Currently making $6.5MM (with a $6MM cap hit) in the final season of a five-year $30MM contract signed with Colorado in 2013, he could secure a substantial raise with a point-per-game season. The Senators are giving him every chance at that type of contract by playing him more than any other forward not named Mark Stone, but whether they're willing to hand it out themselves is still up for debate. Ottawa has cut costs considerably over the last few seasons, and couldn't come to an agreement with captain Erik Karlsson on an extension of his own. Karlsson was likely demanding quite a bit more than Duchene's camp will be asking for, but the finances of any long-term market value deal are tricky for Ottawa.
The team is heading towards a similar result with Stone, who is proving to be one of the best wingers in the NHL and is currently on a one-year deal worth $7.35MM. He's also scheduled for unrestricted free agency and will perhaps be asking for an even bigger contract given that he's younger than Duchene and is on track for his second consecutive point-per-game season. There seems little chance that both players will be re-signed, especially with others like Cody Ceci also needing a slice of the pie next summer.
Duchene though remains the focus at the moment, and if the "substantive talks" result in a contract extension soon it would show that the latest scandal is behind the team, and that both players and executives are focused on winning right away. Though they still may end near the bottom of the standings this season, the group on the ice right now has shown that there is still talent in Ottawa—whether it is enough to convince their free agents to stay is still yet to be determined.
Photo courtesy of USA Today Sports Images