Navigating the Salary Cap is probably one of the more important tasks for any general manager to have. Teams that can avert total cap chaos by walking the tightrope of inking players to deals that match their value (or compensate for future value without breaking the bank) remain successful. Those that don't see struggles and front office changes.
PHR will look at every NHL team and give a thorough look at their cap situation heading into the 2018-19 season. This will focus more on those players who are integral parts of the roster versus those who may find themselves shuttling between the AHL and NHL. All cap figures are courtesy of CapFriendly.
Current Cap Hit: $78,030,832 (under the $79.5MM Upper Limit)
Entry-Level Contracts
D Miro Heiskanen (three years, $894K)
D Julius Honka (one year, $863K)
F Roope Hintz (two years, $812K)
Potential Bonuses:
Heiskanen: $2.5MM
Honka: $500K
Hintz: $158K
Total: $3.16MM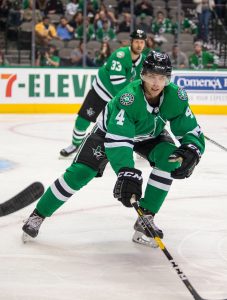 The Dallas Stars got a big boost to their defense when they managed to get Heiskanen, the third-overall pick in 2017, to come over to the NHL from Finland. The talented defenseman should be both an offensive and defensive presence for years to come and should be one of the cornerstones of the franchise. The 19-year-old posted 11 goals and 23 points in 30 games in the Liiga last year and has made an immediate impact to the team. And at an entry-level price, should prove to be an even greater impact to the team's salary cap.
Honka, the team's first-round pick in 2014, has shown glimpses of being a dominant defenseman as well, but despite his offensive talents, his lack of defense has kept him out of the lineup and has caused him to doubt himself as he is dealing with confidence issues. There was a belief that with new head coach Jim Montgomery around, Honka was starting to develop into that top-four defenseman that the team was hoping for, but he has already been scratched twice, suggesting he's still not there yet.
A team that lacks offensive depth should be thrilled that Hintz has made the roster. The 21-year-0ld is a 2015 second-round pick and is coming off a 20-goal campaign in his first season of the AHL and could provide some offense from the wing position.
One Year Remaining, Non-Entry-Level
F Jason Spezza ($7.5MM, UFA)
D Marc Methot ($4.9MM, UFA)
F Mattias Janmark ($2.3MM, RFA)
D Esa Lindell ($2.2MM, RFA)
F Brett Ritchie ($1.75MM, RFA)
D Roman Polak ($1.3MM, UFA)
D Connor Carrick ($1.3MM, RFA)
F Jason Dickinson ($875K, RFA)
F Gemel Smith ($720K, RFA)
This could be the last season for Spezza, and if not, it will be at a much lower AAV. Spezza is coming off one of the worst seasons in his career when he tallied just eight goals and 26 points last season as the 35-year-old struggled. While more determined to put up better numbers this year, the team likely will have to find top-six offense from someone else down the road. Methot is no different as his almost $5MM in salary could be better used elsewhere with the team's defensive depth, although like Spezza, they could bring him back on a cheaper deal. The defensive specialist struggled with injuries last year, appearing in just 36 games.
The team may need a lot of that money for Lindell, who has developed into a solid top-four defender in Dallas. His defense has always been solid, but he has improved on offense, posting a career-high of 27 points and needs to be locked up to a long-term deal. The team also might consider locking up Janmark, who has improved each year since joining the team. The 25-year-old put up 15 goals back in the 2016-17 season and followed that up with an 19-goal season last year, suggesting he could be ready to take that next step this year and become that much-needed offensive weapon on their second line.
Two Years Remaining
F Martin Hanzal ($4.75MM, UFA)
F Valeri Nichushkin ($2.95MM, RFA)
G Anton Khudobin ($2.5MM, UFA)
F Devin Shore ($2.3MM, RFA)
F Radek Faksa ($2.2MM, RFA)
F Tyler Pitlick ($1MM, UFA)
The team still has two years of Hanzal remaining, who signed a three-year deal last offseason, but has struggled with back issues. The 31-year-old appeared in just 38 games last season, posting five goals and 10 points and remains injured at the moment. While he has been skating, there remains no timetable for a return. However, if Dallas can get him back healthy at some point this year, he could provide the Stars with some secondary scoring. Although he's never been a 20-goal scorer, Hanzal adds a physical presence to the team.
Nichushkin is another player who the team has high hopes for after he agreed to return to the NHL after a two year stint in the KHL. The 2013 first-rounder put up just pedestrian numbers in his two years with CSKA Moscow, but the team believes he should fare well on their second line this season and should produce some offense. Khudobin is another important addition to the team as the team fell apart after the team's starter went down late in the season at a critical moment. Without a solid backup (Kari Lehtonen), the team struggled and failed to reach the playoffs. Khodobin adds that much needed solid netminder who can fill in for Bishop, who has a history of injury issues.
The team also needs offense from Shore and Faksa. Both have shown the ability to produce, at times, on the bottom-six lines, but both have the potential to take their games up a notch if they can find the right chemistry. Shore has scored just 24 goals in two seasons combined, while Faksa, a defensive center, scored a promising 17 goals last year.
Three Years Remaining
F Blake Comeau ($2.4MM, UFA)
D Stephen Johns ($2.34MM, UFA)
The team has little to worry about in three years as it has just the veteran Comeau locked up and Johns. Comeau was brought on board to add a gritty, veteran presence to the team, while the 6-foot-4 Johns put up solid defensive numbers for the Stars and even provided eight goals.
Four Or More Years Remaining
F Jamie Benn ($9.5MM through 2024-25)
F Alexander Radulov ($6.25MM through 2021-22)
F Tyler Seguin ($5.75MM in 2018; $9.85MM through 2026-27)
G Ben Bishop ($4.92MM through 2022-23)
D John Klingberg ($4.25MM through 2021-22)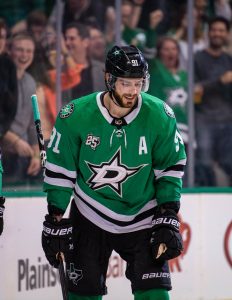 The team has several of their cornerstone players already locked up, the most significant came this summer when Seguin agreed to an eight-year extension to stay in Dallas long-term. Until he did so, there was plenty of speculation the team might have to move on from him, but with their franchise player locked in, the team can now focus on building the team around him rather than looking for a new franchise player. The 26-year-old posted a career-high 40 goals last year, but many feel that he is ready for a breakout season and might be able break out and take his game to the next level.
Benn is another player who the team counts on quite a bit on that fearsome first line. The 29-year-old is still a major offensive force who posted 36 goals and 79 points last season, bouncing back from a lesser 26-goal season in 2016-17. He continues to be a consistent scoring threat as he has never (strike shortened season excluded) scored less than 22 goals in his entire career. Radulov adds that third element for Seguin and Benn. The 32-year-old winger signed away from Montreal last summer was a perfect linemate on that first line as he tallied 27 goals of his own.
Bishop put up decent numbers last year as he played in 53 games for the Stars and put up a 2.53 GAA with a solid .916 save percentage. However, injuries knocked him out at a critical time and the team needs him to be healthy for a sustained playoff run. Klingberg had a great season for the Stars, despite seeing his goals scored drop to career-low eight. However, his career-high 59 assists suggested that he's moving to the upper echelon of defenseman in the league and he even garnered some Norris Trophy consideration.
Buyouts
G Antti Niemi ($1.5MM in 2018-19)
Retained Salary Transactions
None
Still To Sign
None
Best Value: Klingberg
Worst Value: Hanzal
(Excluding entry-level contracts)
Looking Ahead
The key to the Stars plan was getting Seguin to sign on the dotted line and despite some early offseason concerns that it might not happen, the two sides were finally able to come to an agreement before training camp started. That allows the team and general manager Jim Nill to continue working towards adding pieces around a core of Seguin, Benn, Klingberg and Heiskanen by adding much-needed depth. The team looks to be in good shape for the extended future. Now they just have to win some games.
Photo courtesy of USA Today Sports Images.