The Toronto Maple Leafs will be without one of the league's brightest young stars for at least a month, as Auston Matthews has been ruled out with a shoulder injury. Immediately speculation returned about restricted free agent William Nylander, who could now be more important than ever for the Maple Leafs as they try to stay relevant without Matthews in the lineup. Today though, Darren Dreger was on TSN radio and explained that as of the weekend there was still a "pretty wide gap" between the Maple Leafs and Nylander's camp.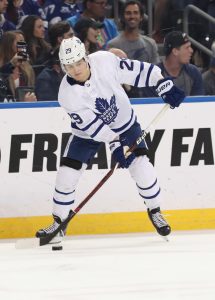 There have been in-person meetings between Maple Leafs GM Kyle Dubas and both Nylander and his agent Lewis Gross over the last few weeks, and things had apparently gone relatively positively. Several reports surfaced that the two sides were having ongoing dialogue, but nothing has materialized to this point. With just a few days remaining in October, we're just over a month away from the December 1st deadline that would stop Nylander from playing at all this season. Even with Matthews' return that would be a worst-case outcome for both sides, given their early season success and belief that they can compete for the Stanley Cup.
The final restricted free agent this season, Nylander is looking for a long-term deal if possible that would buy out several UFA seasons. That would require the cap hit to be substantial, something the Maple Leafs need to be careful of given the other contract they'll need to sign soon. Speculation about a potential trade continues, with Dreger saying that the team "at least has to consider it" before long. Toronto has given absolutely no indication that they would be willing to trade their young forward, but there is certainly interest around the league.
Interestingly, the Maple Leafs are not planning on recalling another forward as of right now, leaving them with just 12 healthy bodies up front. Adding Nylander in would get them back to 13 forwards, but nothing seems imminent unless there has been a change recently. The Maple Leafs are at home this entire week, and will travel to Pittsburgh for Saturday night.
Photo courtesy of USA Today Sports Images