This was a rough week around the NHL when it came to injuries as several prominent players are out long-term.  Those are highlighted in the top stories of the week.
Schultz Out Four Months: The Penguins will be without defenseman Justin Schultz for the next four months after he underwent surgery to repair a fracture in his left leg.  The injury was sustained back on October 13th against Montreal.  He's a key cog on their back end but it doesn't appear as if there are any plans to replace him externally for now with GM Jim Rutherford indicating that their current plan is to try to fill his spot from within.  Considering he is one of their better offensive threats and typically logs nearly 20 minutes a night for them, that's going to be a tall task.
Ritchie Signs: The number of remaining restricted free agents around the league was cut in half after the Ducks and winger Nick Ritchie agreed to terms on a three-year, $4.6MM deal.  Ritchie was believed to be seeking a one-year pact but Anaheim wanted the three-year pact to give them some cost certainty.  It will still take a bit of time before he suits up as he has to get his immigration paperwork in place as well as get his conditioning up to playing shape.
Matheson Gets Two: Following his controversial throw down of Canucks center Elias Pettersson last weekend, the NHL suspended Panthers defenseman Michael Matheson for two games.  Those games were served during the week while Pettersson is currently in concussion protocol but isn't expected to miss much more time.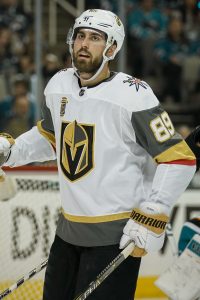 Tuch Locked Up: The Golden Knights continue to lock up their core youngsters.  After inking defenseman Shea Theodore to a seven-year contract last month, they did the same with winger Alex Tuch on a deal that will carry an AAV of $4.75MM and a five-team no-trade clause in the final three years of the contract.  The 22-year-old has yet to play this season as he works his way from a lower-body injury and has just 84 career regular season games under his belt.  Tuch is coming off of a 37-point rookie campaign and still has plenty of upside so while there is certainly some risk to the deal given his limited experience, there is also a chance that this becomes a team-friendly contract over the next few years.
More Injuries: Schultz was hardly the only notable injury around the league.  Vegas will be without their top free agent acquisition in center Paul Stastny for up to two months due to a lower-body injury which certainly isn't good news for an offense that is struggling to score.  Meanwhile, Coyotes pivot Christian Dvorak suffered a torn pectoral muscle while rehabbing the lower-body injury that held him out of training camp.  He has undergone surgery and is out indefinitely.  Meanwhile, even prospects were bit by the injury bug.  Ottawa winger Brady Tkachuk has seen his strong start to his rookie campaign delayed by a month due to a torn ligament in his left leg while Red Wings prospect winger Evgeny Svechnikov (a first-round pick in 2015) will miss five-to-six months due to a torn ACL.
Photo courtesy of USA Today Sports Images.