The beginning of the 2018-19 season led to an uptick of news around the league.  Here are the top stories from the past seven days.
Retirements: A pair of long-time NHL veterans officially hung up their skates as winger Scott Hartnell announced his retirement on Monday and hours later, winger Radim Vrbata did the same.  Hartnell spent 17 seasons in the NHL with Nashville, Columbus, and Philadelphia, recording 707 points while being one of the more prominent power forwards in the league in his prime.  Vrbata bounced around a lot more in his 16 years, spending time with seven different organizations (including three separate stints with the Coyotes) but turned a seventh-round draft slot into a productive career as he picked up 623 points in 1,057 career regular season games.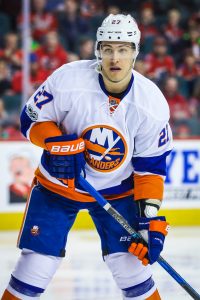 Lee Discussing Long-Term Extension: After losing John Tavares for nothing over the summer, the Islanders are hoping to not see their top goal scorer follow a similar path.  Accordingly, they've started discussions on a long-term contract extension with the 28-year-old.  Lee very quietly has tallied the sixth-most goals of anyone in the league since 2016-17 and more than the likes of Sidney Crosby, Connor McDavid, and even Tavares himself.  That wasn't the only notable story involving Lee, however, as the Islanders also named him as their new captain, replacing Tavares.  Accordingly, if they aren't able to get a new deal done, they'll be repeating that particular process one year from now.
Seattle Gets Expansion Recommendation: It was a very successful meeting with the league for the prospective NHL franchise from Seattle.  Following their sit down, the Board of Governors' Executive Committee unanimously recommended continuing to move forward with their expansion application.  The target debut for the franchise is 2020-21, assuming they receive the required approval from the full board later.  Worth noting is that the Vegas Golden Knights will be exempted from losing a player in the Expansion Draft.  However, they will not be able to share the profits from Seattle's $650MM expansion fee either.
More Captaincies: The Islanders weren't the only team to name a captain this week.  Veteran blueliner Shea Weber received the nod in Montreal, taking over for Max Pacioretty who was dealt to Vegas last month.  He'll have to wait a while to wear the 'C' in a game though as he's out for at least the next two months following offseason knee surgery.  The fact he was named as their captain makes it less likely that the team will look to move Weber, even if they head further into a rebuilding situation.  Meanwhile, after going without a captain last season, the Sabres have decided on Jack Eichel for that honor.  Despite being just 21, he's certainly an understandable choice given their commitment to him as he is in the first season of a new eight-year, $80MM contract.  Even with the three vacancies being filled around the league, there are still six teams without a captain this season.
Wilson Gets 20: Capitals winger Tom Wilson will be waiting quite a while to make his 2018-19 season debut.  Following a hit on Blues forward Oskar Sundqvist in their final exhibition game, the league handed the 24-year-old a 20-game suspension, one that carries a salary forfeiture of more than $1.26MM.  As things currently stand, he's eligible to return to the lineup on November 21st.  However, Wilson and the NHLPA have filed an appeal which will be held by NHL Commissioner Gary Bettman at a later date.
Photo courtesy of USA Today Sports Images.