Navigating the Salary Cap is probably one of the more important tasks for any general manager to have. Teams that can avert total cap chaos by walking the tightrope of inking players to deals that match their value (or compensate for future value without breaking the bank) remain successful. Those that don't see struggles and front office changes.
PHR will look at every NHL team and give a thorough look at their cap situation heading into the 2018-19 season. This will focus more on those players who are integral parts of the roster versus those who may find themselves shuttling between the AHL and NHL. All cap figures are courtesy of CapFriendly.
Current Projected Cap Hit: $76,853,780 (under the $79.5MM Upper Limit)
Entry Level Contracts
D Mikhail Sergachev (two years, $894K)
F Anthony Cirelli (two years, $728K)
F Brayden Point (one year, $687K)
Potential Bonuses:
Sergachev: $850K
Cirelli: $183K
Point: $183K
Total: $1.22MM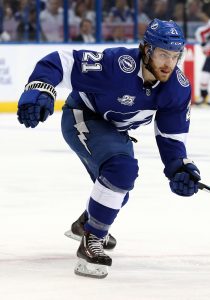 After a impressive rookie campaign, the Lightning knew they had a special player in Point, who proceeded to have a breakout year as the team's second-line center. Point, who is good enough to be a No. 1 center, provided the team with a 32-goal, 66-point season. Now in his third year, Point could really walk away with a huge payday if he can equal or even better on that performance this year. Cirelli looks to have the third-line center spot locked down after the 21-year-old had a successful, but short stint, last season. He posted five goals and 11 points in 18 games last season and played in all 17 games of the playoffs, adding a pair of goals.
Sergachev has two years remaining on his contract and the 20-year-old defenseman had an up and down season, but still posted a nine-goal, 40-point season. He did have trouble getting regular minutes as the team often lost faith in his defensive play along with some immaturity issues. Regardless, the left-handed shot actually proved to head coach Jon Cooper that he can play on the right side, solving their depth issues on the right side. Sergachev should continue to develop his skills and also be in line for a big payday in two years.
One Year Remaining, Non-Entry Level
D Anton Stralman ($4.5MM, UFA)
D Braydon Coburn ($3.7MM, UFA)
D Dan Girardi ($3MM, UFA)
F Yanni Gourde ($1MM, UFA)
F Cedric Paquette ($1MM, RFA)
D Slater Koekkoek ($865K, RFA)
D Jake Dotchin ($813K, RFA)
F Adam Erne ($800K, RFA)
F Andy Andreoff ($678K, UFA)
F Cory Conacher ($650K, UFA)
For a team known for its defensive depth on its defense, it's a little shocking to see that they only have three players signed after the 2018-19 season. Almost all of the team's defense become free agents, restricted or otherwise, including Stralman, Coburn, Girardi, Koekkoek and Dotchin. With the team heavily laden in long-term deals, the team might be willing to allow Stralman, Coburn and Girardi to walk at the end of the year. All three are solid players, but there might not be any cap room to extend any of them, especially if the team has to give long-term deals to both Sergachev and Point. Stralman's situation will be the most interesting as he's a solid defenseman that complements his partner quite well and was the veteran who mentored Sergachev last season. Coburn and Girardi are likely expendable. Koekkoek and Dotchin will only be restricted free agents, but neither got a lot of playing time with the team, especially after the team added defensive talent at the trade deadline. However, both could play bigger roles this year, or within two years.
Another interesting decision the team will have to make is Gourde, who posted a breakout season in his first full season. The 26-year-old spent many years working on his game in the AHL before finally catching on with the Syracuse Crunch in 2014. From there he worked his way up before catching the team's eye in training camp to win a spot. The result was a 25-goal, 64-point performance and now he has to prove he can duplicate that performance this season to get a big boost in his pay. For $1MM, Gourde may be the best bargain on the team, but he could get pricey quickly.
Two Years Remaining
F Ryan Callahan ($5.8MM, UFA)
G Andrei Vasilevskiy ($3.4MM, UFA)
G Louis Domingue ($1.15MM, UFA)
With the increase in salary being handed out to top goaltenders, the Lightning aren't looking forward to Vasilevksiy's contract negotations. Considered by many to be the top goaltender in the NHL at only 23 years old, Vasilevskiy will likely break the bank when the team signs him to a long-term deal. Montreal's Carey Price ($10.5MM) and the eventual contract that Columbus' Sergei Bobrovsky gets next year will likely just be the starting point for a goaltender who posted a .920 save percentage in 65 games last season.
The team should be able to salvage part of that raise from the expiring contract of Callahan (assuming they don't trade or buy him out before then). Callahan, will be eventually missed as he's the heart and soul of the team, but injuries have negated his presence for much of the last two years. Once his $5.8MM contract expires, the team can apply that towards a new contract for Vasilevskiy (plus quite a bit more). Callahan, 33, provides a physical presence, but he only played 67 games and he had an injured shoulder for quite a bit of that time after missing most of the 2016-17 game.
Three Years Remaining
None
Four Or More Years Remaining
F Steven Stamkos ($8.5MM through 2023-24)
D Victor Hedman ($7.8MM through 2024-25)
F Ondrej Palat ($5.3MM through 2021-22)
F J.T. Miller ($5.25MM through 2022-23)
F Tyler Johnson ($5MM through 2023-24)
F Nikita Kucherov ($4.8MM in 2018-19; $9.5MM through 2026-27)
D Ryan McDonagh ($4.7MM in 2018-19; $6.75MM through 2025-26)
F Alex Killorn ($4.45MM through 2022-23)
The team has locked up more players than most teams as they feel their core is ready to win for the next 10 years. The team started much of those signings back in 2016 when they were able to convince Stamkos to sign an eight-year, $68MM deal. Stamkos, who then got hurt in his first season and only played 17 games, bounced back with a solid season last year, posting 27 goals and 86 points. The 28-year-old posted impressive point totals, but saw his goal output drop after tallying 36 goals in 2015-16 and 43 in 2014-15 (not to mention the 60 in 2011-12). However, with Kucherov on his wing, there may not be a requirement to score as much.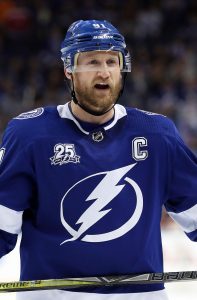 Kucherov signed his eight-year, $76MM extension this offseason, as the team wanted to lock up their star winger, who many think is one of the top five players in the league. The 25-year-old posted a career-high in points, breaking 100 points this year. He also added 39 goals and now has scored 138 goals in the past four seasons.
Once the team locked up Stamkos, they immediately followed that up with an extension for Hedman, who proved he was worthy of the eight-year, $63MM deal when he won the Norris Trophy last season with a 17-goal, 63-point performance. The addition of McDonagh at the trade deadline only made Hedman's job easier as McDonagh was able to share some of those tough minutes and help prevent Hedman from playing too many minutes in each game. The team then followed up on that by signing McDonagh to a seven-year, $47.3MM extension that will keep the veteran with the team until he's 37 years old.
The team also locked up Palat and Johnson, two key wingers, to long-term extensions as well. The 27-year-old Palat has four years left on a five-year, $26.5MM deal. He was hampered by injuries last season, but still produced 11 goals and 35 points, but has the abilities to be a respectable 20-goals scorer year after year. The 28-year-old Johnson has six years remaining on his seven-year, $35MM contract and provided 21 goals and 50 points, providing solid top-six depth. The addition of Miller, who signed a five-year, $26.25MM deal this offseason, walked in and was an immediate fit on the team's top line next to Stamkos and Kucherov. He combined for a career-high in goals and points as he gives the line much-needed size and style around the net.
The only player who seems to not be an impact player would be Killorn. the 28-year-old power forward, who the team handed a seven-year, $31.2MM contract back in 2016. With five years remaining at $4.45MM, Killorn still provides offense, but in a bottom-six role. He scored 15 goals and had a career-high 47 points, but $4.45MM is a lot of money for a player in that role.
Buyouts
D Matthew Carle ($1.83MM through 2019-20)
Retained Salary Transactions
None
Still To Sign
None
Best Value: Gourde (Excluding entry-level contracts)
Worst Value: Callahan
Looking Ahead
The team has done an impressive job in building a franchise winner. They need only one thing — a Stanley Cup title — but the team has the pieces, most of which are just entering their prime, to accomplish just that. The franchise that general Steve Yzerman has things they have to deal with, but it seems to be in good hands. The team got a good deal out of Kucherov, who signed for slightly below-market value (thanks in part to Florida's lack of state tax) and while they still have a few contracts they'll have to deal with in the near future (Point, Sergachev, Gourde and Vasilevskiy), the team is set up perfectly to compete with the best teams in the leagues for the foreseeable future. They might even have the ability to take on another major contract like an Erik Karlsson if they wanted.
Photo courtesy of USA Today Sports Images.