Navigating the Salary Cap is probably one of the more important tasks for any general manager to have. Teams that can avert total cap chaos by walking the tightrope of inking players to deals that match their value (or compensate for future value without breaking the bank) remain successful. Those that don't see struggles and front office changes.
PHR will look at every NHL team and give a thorough look at their cap situation heading into the 2018-19 season. This will focus more on those players who are integral parts of the roster versus those who may find themselves shuttling between the AHL and NHL. All cap figures are courtesy of CapFriendly.
Current Cap Hit: $74,008,045 (under the $79.5MM Upper Limit)
Entry-Level Contracts
F Nick Schmaltz (one year, $925K)
F Dylan Sikura (one year, $925K)
F Dominik Kahun (two years, $925K)
F David Kampf (one year, $925K)
F Victor Ejdsell (one year, $834K)
F Alex DeBrincat (two years, $778K)
Potential Bonuses:
Kahun: $2.85MM
Sikura: $925K
Schmaltz: $850K
DeBrincat: $133K
Total: $4,76MM
The team has a number of quality youngsters who will eventually cost them a good deal of money. However, the team has high expectations for Schmaltz, who had a breakout season and was one of the few bright spots in Chicago during a dismal season. Schmaltz, in his second year, scored 21 goals and added 52 points and is expected to be the team's No. 2 center for a number of years in the future. The only key issue that Schmaltz continues to work on is his struggles in the face-off circle as he had just a 40.1 percent faceoff winning percentage last year, which is horrible.
The team's other major bright spot was the play of DeBrincat. The 20-year-old made the team and then tallied 28 goals in his rookie campaign and looks to be another solid scorer for Chicago to work with in the top-six. The team hopes for a similar season from Sikura, who the team signed out of Northeastern University, where he posted 58 goals over four seasons there. The 23-year-old winger looks to have a solid chance of joining DeBrincat in the top six this season.
Two other interesting names, who could make an impact with the team are Ejdsell and Kahun. Ejdsell, who the team acquired in the Ryan Hartman trade at the deadline, has an opportunity to beat out Sikura for a top-six spot if he has a good training camp, while Kahun, signed to a two-year deal out of Germany, is another candidate to make the team and contribute immediately.
One Year Remaining, Non-Entry-Level
G Cam Ward ($3MM, UFA)
F Marcus Kruger ($2.78MM, UFA)
D Jan Rutta ($2.3MM, UFA)
F Chris Kunitz ($1MM, UFA)
F Jordan Schroeder ($650K, UFA)
F Tyler Sikura ($650K, UFA)
While the Blackhawks offseason was relatively quiet, the team did make a splash in the goaltending market after the team went for much of the season last year without their starting goaltender. Because of their lack of depth, the team added Ward to help fill the backup role, who could also take over starting duties if needed. The 35-year-old Ward played 43 games for Carolina a year ago and posted a .906 save percentage along with two shutouts. While those numbers aren't great, they are better than the goalies they carried a season ago.
The team also brought in some grit, bringing back Kruger as well as signing 38-year-old Kunitz. Both should fill significant roles in the bottom-six and hopefully boost the production of those lines. Kruger struggled since leaving Chicago. He posted just one goal and five assists in 48 games last season and was demoted to the AHL for 19 games. However, in the offseason, Kruger admitted he played the entire season with a hernia, which is what affected his play. Now, fully healthy, Kruger might be able to bounce back. Both are solid one-year options.
The 28-year-old Rutta showed some solid signs of progress in his rookie campaign. He averaged 19:15 of ATOI, scoring six goals and 20 points, as well as having a (minus) one plus/minus ratio. Another season could boost his production as a top-four defenseman.
Two Years Remaining
G Corey Crawford ($6MM, UFA)
D Brandon Manning ($2.25MM, UFA)
D Erik Gustafsson ($1.2MM, UFA)
F John Hayden ($750K, RFA)
The Blackhawks success will likely fall on Crawford, who missed most of the season last year with concussion-like symptoms and the 33-year-old netminder has already indicated that he likely won't be ready for training camp and could miss part of the season next year.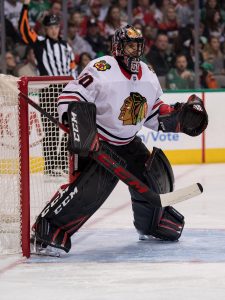 With those issues, there isn't necessarily a guarantee that he will bounce back and put up similar numbers from his 2015-16 season when he put up a .919 save percentage in 55 games. His numbers were actually even better in the 2017-18 season before he was injured, posting a .929 save percentage to go with two shutouts in 28 games.
Chicago will rely on Gustafsson and Murphy to help man their defense. Both will need to improve quite a bit to improve their weakened defense. Gustafsson showed some promise after being recalled late in the season from Rockford of the AHL and he posted 16 points in 35 games. The defensive-minded Murphy, who came over in the Niklas Hjalmarsson trade was solid, if not unspectacular on defense. Both will be needed if the team wants to return to the playoffs next year.
Three Years Remaining
F Brandon Saad ($6MM, UFA)
F Artem Anisimov ($4.55MM, UFA)
The team had high expectations for the return of Saad last year, who came back to the team in the Artemi Panarin deal last offseason. However, Saad failed to live up to expectations. After posting three years of at least 23 goals (including a 31-goal performance in 2016-17), as well as at least 52 points, Saad struggled, putting up just 18 goals and 35 points in a full 82-game season. The team will need more from the 25-year-old winger, who will get another chance to prove himself in the top-six.
Ansimov has been solid for Chicago the last three years and is likely to fill the third-line center role again for the Blackhawks. He has posted three straight 20-goal seasons, but saw his assist-rate drop by 12 assists over the past year. The 30-year-old center must continue to produce to help out the success of the bottom-six.
Four Or More Years Remaining
F Patrick Kane ($10.5MM through 2022-23)
F Jonathan Toews ($10.5MM through 2022-23)
D Brent Seabrook ($6.88MM through 2023-24)
D Duncan Keith ($5.54MM through 2022-23)
D Connor Murphy ($3.85MM through 2021-22)
While Kane didn't have his usual elite season, however, the 29-year-old still managed to post 27 goals and 76 points last season. Granted, that's a little down from his 106-point season in 2015-16 or his 89 points in 2017-18. However, he remains a bright spot and is determined to get the Blackhawks back into the playoff picture this year.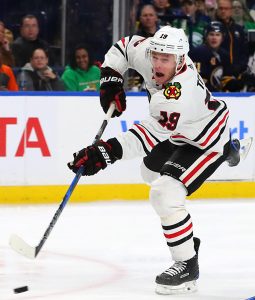 Toews also has the same determination and will have to prove that the game hasn't passed him by. The 30-year-old center posted just 20 goals and saw his points totals slide to just 52 points last season and looked to be slowing down with the league shifting to more of a speed game. Toews must prove that he can bounce back if this team move back up the standings.
Keith and Seabrook are both in similar situations. Keith had trouble finding the net last year, scoring just two times, but he also saw his offensive numbers fall as well as he scored just 30 points, his lowest output (not including the strike-shortened 2012-13 season) since his rookie season in 2005-06. While the 35-year-old still played more than 23 minutes of time on the ice, his minutes dropped by 1:47 last season. Seabrook really dropped off as well as he had his worst statistical season since the 2008-09 season and he also saw his minutes drop more than a minute as well. Both may require reduced minutes if they hope to return back to their impressive ways. Unfortunately, the team will likely struggle with their salaries for many years to come.
Buyouts
None
Retained Salary Transactions
None
Still To Sign
None
Best Value: Kane
Worst Value: Seabrook
(Excluding entry-level contracts)
Looking Ahead
The Blackhawks have quite a bit of talent coming throughout their system as well as quite a few prospects and with the way they've successfully signed players out of the college market, the team has hopes for the future. Unfortunately, several of those players like DeBrincat and Sikura are eventually going to require long-term deals, and with the old core of Kane, Toews, Seabrook and Keith not going anywhere for at last five more years, the team will be challenged yearly to compete. If the team can continue to bring in new blood to complement the veterans, than maybe Chicago has a chance to return to the playoffs sooner than later. Of course, the team's success will also have much to do with whether Crawford can return to form. If so, they might jump back sooner than they think. However, if the veteran goaltender never returns to form, they will have quite a few problems with few goalie prospects in the system and little money to spend to get a new one.
Photo courtesy of USA Today Sports Images.