Topics in this edition of the mailbag include the Adam McQuaid deal, Calder contenders, Artemi Panarin's situation, rookies in Chicago, the latest big move in Vegas, and the odd situation surrounding defenseman Jake Dotchin.
acarneglia: Why would the Rangers part with Kampfer, a 4th, and a 7th to land McQuaid?
On the surface, a team that's firmly in a rebuild parting with a pair of draft picks plus Steven Kampfer to land a one-year rental in McQuaid seems a little iffy.  I was a bit surprised at the move myself at first but I think I have an idea about the logic.
For starters, if Brendan Smith ultimately winds up back in the minors, the Rangers would have had just two defenders over the age of 25.  I know youth movements are all about playing the younger players but a veteran supporting cast is still needed.  McQuaid is someone that will be comfortable in a supporting role and won't have to play every game.  They'll get a chance to determine if he's a fit in that type of role beyond this season.
If not, they can turn around and deal him before the trade deadline.  There are always contending teams looking to add depth defenders and it's quite reasonable to think that they can at least get the fourth-rounder back, if not beat it depending on how McQuaid fares.  With that in mind, consider that Kampfer likely would have been waiver-bound anyway (meaning they would have run the risk of losing him for free), so how much did they really give up in the end?
It's a low-risk move overall.  They'll get a look at him to see if he's a fit beyond 2018-19 and if not, they'll flip him and recover a good chunk back of what they gave up.
Pawtucket: Who are the sleeper rookies/sophomores that may have big years this year? So rookies not picked in the top 5 and sophomores that were not considered for the Calder.
Technically, Filip Zadina (sixth overall back in June) qualifies but he's a bit of an obvious choice so I won't pick him.  Instead, here are five other players to ponder.
While everyone talks about Rasmus Dahlin in Buffalo, I think their top pick from 2017 in center Casey Mittelstadt (seventh overall) could be poised for a big role right off the bat.  He impressed late last season and if they opt to put Sam Reinhart as a winger, Mittelstadt could have a top-six role before too long which should have him in line for a very productive season.
A little more under the radar would be Carolina center Martin Necas.  The injury to Victor Rask paves the way for the 12th pick in 2017 to play a top-six role to start the season.  He's coming off of a nice season in the Czech League, was dominant at the World Juniors, and played quite well at the Worlds back in May as well and if he carries that over, he could hold down that top-six spot even when the team is fully healthy.
In terms of true dark horses, I'd suggest Bruins forward Ryan Donato.  Boston didn't hesitate to use him down the stretch last season and he played quite well.  With a vacancy in their top-six up for grabs, he could have a shot at landing it or at least a third line role to start.  I think Florida center Henrik Borgstrom (23rd overall in 2016) could have a big year but playing behind Aleksander Barkov and Vincent Trocheck, he'll probably be too far under the radar to be a Calder contender.  Even so, he should have a big impact for the Panthers.  Then there's winger Kristian Vesalainen (24th in 2017) in Winnipeg.  The Jets haven't hesitated to put key rookies in crucial roles and if Vesalainen cracks the roster, he could follow suit.
The likes of Dahlin, Andrei Svechnikov, Zadina, and Elias Pettersson appear to be the early favorites to take home the Calder but some of these players should be in the mix as well.
@MexiCaliBlue19: What's the deal with Artemi Panarin?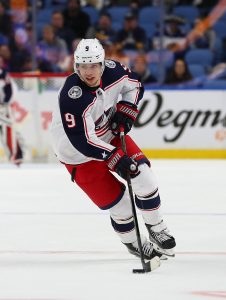 Based on comments his agent made, it sounds like Panarin does like Columbus but just not enough to commit to spending the next eight years there as things currently stand.  Unless something changes (such as the Blue Jackets becoming a top-flight contender or Panarin being willing to sign another short-term deal), there appears to be a stalemate.  Given that he is pegged to be one of the top unrestricted free agents next summer, he has little motivation to accept a short-term deal when he can command a max-term deal in free agency.
At this point, what GM Jarmo Kekalainen will need to decide is whether or not they're better off dealing him (for what would likely be a futures-based return) or to use him as an 'internal rental' in the hopes of making a long postseason run.  Of course, the latter route means that there's a very good chance that they would lose him for nothing come July but their playoff hopes are a lot better with him than without.
Earlier this week, Panarin ruled out having any further discussions regarding a contract extension so he appears intent to hit the open market one way or another.  With that in mind, a parting of the ways seems inevitable at this point.
Gerald Arrington: As an avid Chicago Blackhawks fan, I am interested in projections for rookies Dominik Kahun, Victor Ejdsell, Dylan Sikura, Jacob Nilsson. How will they fit in with the core players and which rookie will have the biggest impact for the team?
I'd peg Sikura as the likeliest one to have a notable impact.  He's a skilled but small forward that is probably best suited to play in the top-six (or an offensive-minded third line).  He acquitted himself well in a limited sample size last season and he should be able to lock down a regular role.
I liked the addition of Ejdsell back at the trade deadline.  He can play both center and the left wing and it was on the wing that he showed some offensive upside with Rockford in the playoffs.  That said, I'm not sold that it will translate into consistent NHL production.  He's a bottom-six player in the NHL and while he could hold down a fourth line spot right away, I could see them starting him in the minors instead to give him more development time.
I've liked Kahun's play internationally for Germany going back to the World Juniors but I'm not sure it will translate to the NHL.  I have some doubts about his offensive game but his two-way game is good enough to give him a chance to maybe play on a third line.  His European Assignment Clause could help him stick around to start the season but I don't think he'll have the same impact as Sikura.
As for Nilsson, I suspect he'll start in Rockford with the hopes of playing his way into a call-up midseason.  There's a connection with head coach Jeremy Colliton from his days with Mora which likely played a role in him choosing to sign with the Blackhawks.  He may see some action on injury recall but I don't think his NHL impact will be too substantial this coming season.
Other than Sikura, I don't there will be much of an impact with their core.  The other players project to be cheaper roster fillers than ones that will see much time with Chicago's top players.  Sikura, if all goes well, can get to that level and it wouldn't be shocking to see him alongside one of Jonathan Toews or Artem Anisimov at times in 2018-19.
Zack35: Even though Vegas made it to the Cup Final, does it make sense to just switch gears from trying to build through the draft, to now trading a bunch of picks for Tatar, and then Suzuki in the deal for Pacioretty? It just doesn't make sense to me. After Glass and Brannstrom they don't have a lot coming.
@KylePickering4: How good is the second line in Vegas going to be now that they have Pacioretty and Stastny?
To be fair, has anything really made sense with Vegas over their first year of existence?  They weren't supposed to be more than maybe somewhat competitive early on but after a trip to the Stanley Cup Final, it certainly seems like they're in their window to contend now.  Those windows don't come around too often so I understand why they're taking their big swing even though it goes against all traditional logic of a new team in the league.
Their move to acquire Tomas Tatar didn't make much sense at the time and looks even worse now but Max Pacioretty is a different class of player.  He's still a legitimate top liner and should be able to replace (and probably improve upon) James Neal's output from last year.  They gave up a lot in Nick Suzuki but getting a core player for five years makes that justifiable even though they don't yet have the deepest of prospect pools.  That said, they shouldn't be making too many more of these types of trades.
I'm not convinced that everything is going to go as well as it did last year.  A lot of players vastly outperformed expectations and some regression is to be expected.  However, adding Pacioretty and Paul Stastny to the mix should help offset some of that regression.
If the two close friends (and teammates internationally) wind up playing together, that will be a very strong second line.  I think someone like Alex Tuch would be a nice complementary piece for that unit as he has the skill to keep up and make teams pay if they focus their attention on the other two.  Assuming the top line can produce at a somewhat comparable rate as last season, the Golden Knights shouldn't have too many issues getting production up front.
Connorsoxfan: What the heck is going on with Jake Dotchin?
Does anyone else feel like there's more going on than what's currently out there?  I get that his conditioning is poor and that it's the second straight year that it has happened.  Conditioning can be improved though.  With that in mind, how did he clear waivers?  A young, right-shot defenseman with NHL experience on a good team that has a cap hit that's cheaper than some minor league call-up options should not be going through unclaimed based on what's out there publicly.
What's really intriguing about this is the possibility of other teams following suit and trying to terminate contracts based on poor conditioning.  (We've already seen that happen once earlier today.)  Not many are going to bat an eye for a depth player like Dotchin but what if a team tries it with a more significant player on a bigger contract?  What level of poor conditioning constitutes a "material breach" of a contract?  Are teams going to try to put in specific conditioning standards into writing now with the idea that if they're not met, they have an easy out?
Even if Dotchin finds another team, I wonder if the NHLPA still looks to grieve this if for no other reason than to try to prevent this from becoming a more frequent occurrence.  One agent told Joe Smith of The Athletic (Twitter link) that this could be the beginning of the proverbial Pandora's Box and I'm inclined to agree.  Dotchin's case is fairly notable in itself in my opinion but the long-term effects of this, if it stands, could be quite significant.
Photo courtesy of USA Today Sports Images.