With the NHL season now just a month away, it's time to look at what each team has done this summer and what to watch for in the year to come. Today, we focus on the Tampa Bay Lightning.
Last Season: 54-23-5 record (113 points), third in the Atlantic Division (lost to Washington in the Eastern Conference Finals)
Remaining Cap Space: $2.646MM per CapFriendly
Key Additions: D Cameron Gaunce (free agent, Columbus); Kevin Lynch (free agent, Syracuse Crunch (AHL))
Key Departures: F Chris Kunitz (free agent, Chicago Blackhawks); D Andrej Sustr (Anaheim Ducks); F Matthew Peca (Montreal Canadiens); F Erik Condra (Dallas Stars); Mathew Bodie (Torpedo Nizhny Novgorod (KHL)); F Alex Gallant (Vegas Golden Knights)
[Related: Lightning Depth Chart From Roster Resource]
Player To Watch: F Nikita Kucherov – The 25-year-old superstar quietly signed a eight-year, $76MM extension this offseason and after breaking the 100-point barrier, many wonder if Kucherov takes another step this season. He broke the 100-point barrier last year as his assist totals took a jump, most likely in part because of his success playing next to center Steven Stamkos.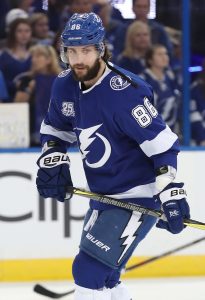 However, is there more that Kucherov can do to help the team capture a Stanley Cup? The winger took his game up a notch after the 2016-17 season when he jumped from 30 to 40 goals. Then last season, he took those assists up a notch, raising his assist totals from 45 to 61, while maintaining his goal-scoring prowess as he still tallied 39 goals last season.
The real question is whether the 100-point performance last season is just Kucherov scratching the surface of his potential or whether he will slip back to his 80-pont ways. No matter what, he remains one of the best plaeyrs in the NHL, but one wonders how much better he can be.
Key Storyline: General manager Steve Yzerman has never been shy of making a big trade to add talent for their Stanley Cup run. He did that at the trade deadline last year when the team went out and acquired two key pieces for their run when they got defenseman Ryan McDonagh and winger J.T. Miller, both who were critical to their playoff run. Unfortunately, they hit the Washington Capitals' wall and failed to reach the Stanley Cup Finals, but they were extremely close.
The team didn't make many moves in the offseason, but were rumored to be in on a potential Erik Karlsson trade and at one point it looked like it was a done deal. However, the team may not have been ready to part with talented defenseman Mikhail Sergachev at the time. However, with Karlsson still in Ottawa, don't be shocked if the Lightning do everything it can to bring the star defenseman aboard. If the team could find itself with a top-four of Victor Hedman, McDonagh, Karlsson and Sergachev, the team's defense might be the best in hockey.
Overall Outlook: There may be only eight teams that could be considered legitimate candidates to win the Stanley Cup this year and Tampa Bay would likely be considered among the top two or three teams this year. With their offensive success throughout their forward lines as well as a developing defense with two solid top-two defenders on the roster and the most talented young goaltender in the NHL at the moment in Andrei Vasilevskiy, the team is in good hands for the 2018-19 season.
Photo courtesy of USA Today Sports Images.