Saturday: CapFriendly (via Twitter) provides a breakdown of the no-trade clause, noting that Fleury will be able to block a trade to ten teams each season.
Friday: The Vegas Golden Knights have locked up their goaltender, signing Marc-Andre Fleury to a three-year contract extension. Fleury still had one year remaining on his current contract, meaning this extension will kick in for the 2019-20 season. The deal will pay Fleury $21MM, and carry a cap hit of $7MM per season. It also includes a no-trade clause, though notably not a no-movement clause which was part of the reason Fleury ended up in Vegas in the first place. In the expansion draft process, teams were forced to protect players with no-movement clauses unless they agreed to waive it, something that Fleury did to help the Pittsburgh Penguins retain Matt Murray who would have been otherwise exposed. The Golden Knights won't be in that same situation when the next expansion team comes around.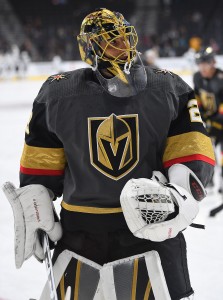 Instead, Fleury will continue to be the face of the NHL's 31st franchise for a few more years. The 33-year old goaltender registered arguably the best season of his NHL career in 2017-18, when he fought through injury to lead the Golden Knights on a deep playoff run. In the regular season Fleury posted a .927 save percentage, the best full-season number of his career, and followed it up with the same number in the playoffs. That 20-game playoff run included four shutouts and just 47 goals allowed en route to a Stanley Cup Finals appearance in the franchise' first season. Fleury is earning $5.75MM in the final year of his current contract but will get a healthy raise next year. Frank Seravalli of TSN gives us the yearly breakdown of the three-year extension:
2019-20: $8.5MM
2020-21: $6.5MM
2021-22: $6.0MM
Indeed there is more to Fleury than his on-ice performance. He, James Neal and Deryk Engelland were immediately raised up as the new faces of the Golden Knights organization, the first two for their star power and the latter for his ties to the community. Though that moniker may now be shifting to younger stars like William Karlsson, Jonathan Marchessault and Nate Schmidt, who broke out as legitimate stars this season, Fleury remains a big part of the marketing strategy for Vegas. His personality and charm have been raised up as something to celebrate for the Golden Knights, and with his healthy on-ice performance backing it up he has become an even bigger star than he was in Pittsburgh—despite having won three Stanley Cups with the Penguins.
That explains some of why the team gave him a huge raise, but this contract doesn't come without concerns. The fact that Fleury had a career year for the Golden Knights helped them find great success, but it also likely means he won't be able to replicate or improve on his numbers going forward. He'll turn 34 before the first year of the extension kicks in, and 35 soon after it does. Goaltenders—especially elite ones—can often hold on to their peak performance longer than the average player, but with Fleury's history of injury and already relatively long career there could be a big drop off coming. Fleury of course broke into the NHL at the age of 18 after being selected first overall and has already played in 737 regular season NHL games, good for 22nd all-time. Add in his 135 playoff contests (which rank sixth all-time) and he's already played more than an entire career's worth for many goaltenders.
The question then becomes does Vegas actually suffer financially if Fleury's on-ice performance drops even somewhat. The $7MM cap hit would be incredibly difficult to swallow for many teams, but the Golden Knights are starting from nothing and have room to spare going forward. They're still not close to reaching the salary cap ceiling in 2019-20, and can easily fit in an extension for Karlsson without trouble. The issue though comes on whether this is a model for sustained success. For all the Golden Knights accomplished this season, their prospect pipeline is still shallow despite some top-end names from the 2017 draft. After trading away several picks to add Tomas Tatar, they found themselves waiting until #61 to make a selection in 2018 and again until #99 to step up to the podium for a second time. Though they still have plenty of selections going forward, cap space and financial might was their biggest weapon in trade negotiations.
Fleury alone doesn't remove that weapon, and in fact Vegas will still be able to hold some cap-pressed teams hostage if they want to. But with several of the moves over the last few months the team has come from one with almost no long-term money on the books, to one with quite a bit. A long-term deal for Karlsson, which will be buying out almost entirely free agent seasons will only increase the amount of future finances that are wrapped up, and limit their ability to weaponize that immense freedom and space.
Still, no one in Vegas is complaining today as they lock up one of their top performers. Without Fleury the Golden Knights may have been swept out of the playoffs early, and he certainly can provide plenty of experience and leadership during any potential struggles. The deal's front-loaded nature would actually make it easier to move down the line if someone like Malcolm Subban takes a big step forward and assumes the starting role, and the team has more than enough room to handle it themselves. Still, Vegas has to be careful where they make their next few bets, or risk losing their house advantage.
Photo courtesy of USA Today Sports Images