The Canucks have been discussing a contract extension with winger Brock Boeser, GM Jim Benning acknowledged to Postmedia's Ben Kuzma.  However, talks have yet to advance past the preliminary stage although Benning expects that to change in the coming weeks, stating that:
"I talked to his agent this past week and we'll have more time in the next couple of weeks to talk about it internally and then hear from their side.  If we're going to do something, we'd do it then.  We'll see where they're at and where we're at and see if something works."
Boeser has fully recovered from back and wrist injuries that prematurely ended his season.  Before being shut down, the 21-year-old was in the midst of a strong year, posting 29 goals and 26 assists in just 62 games to lead Vancouver in scoring which is pretty good for someone in their first professional season.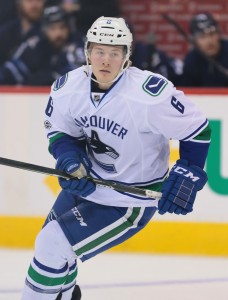 That lack of overall NHL experience (totalling 71 games which includes a brief post-college stint in 2016-17) makes this a particularly interesting case to follow.  Generally, players that are signing early extensions while still on their entry-level deals have two full years of NHL experience under their belts; Boeser has yet to play a full season worth of games.
Despite that, it's certainly understandable that the Canucks are at least looking into an extension with their young sniper.  Boeser has been touted as a top prospect since being drafted in the first round three years ago and had been expected to be a key part of their future.  Not many were expecting him to be a top-liner so quickly but it's reasonable to think that this level of production will continue (if not improve) in the coming years.
As for what Boeser may be looking for, it's likely that he'll be looking at teammate Bo Horvat's six-year, $33MM deal that was signed last September as a baseline.  While Horvat had three full NHL seasons under his belt at that time, none of them were as productive as Boeser's 2017-18 performance.  If Boeser is indeed open to signing now, his next contract is probably going to be pretty close to Horvat's as otherwise, he may as well just play out the 2018-19 campaign and hope to head to restricted free agency with even more leverage for a bigger deal next summer.
With two restricted free agents left to re-sign (including defenseman Troy Stecher who filed for arbitration), this is something that can be put on the backburner for now but a new deal for Boeser will be something to keep an eye on later this summer.
Photo courtesy of USA Today Sports Images.