The Pittsburgh Penguins made it clear after re-signing Bryan Rust that there may be cap casualties this summer, and we now may have an idea of who GM Jim Rutherford was talking about. Conor Sheary and Matt Hunwick are headed to Buffalo in exchange for a conditional 2019 fourth-round pick. The pick would move to a third-round selection if Sheary scores 20 goals or 40 points, or if Hunwick is traded before the 2019 draft. With no salary retained, this move clears $5.25MM for the Penguins, giving them plenty of room to add through free agency if they so choose.
Buffalo GM Jason Botterill released this statement on the acquisitions:
Conor has proven himself to be a reliable forward with an ability to come through in big games, whose playoff experience speaks for itself. Conor and Matt will bring a winning pedigree to our team, and we expect them both to complement our group very well.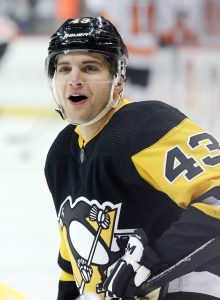 Sheary is the prize of the trade for the Sabres—if you couldn't tell from the above statement—and will likely be asked to take up residence on the left side of one of the top two lines in Buffalo. He has experience playing with a superstar center before, spending plenty of time on Sidney Crosby's wing in Pittsburgh. If he can recreate some of that chemistry with Jack Eichel, the Sabres may have finally found a fit for their franchise center.
The 25-year old Sheary went undrafted as a junior player and needed to prove himself at the NCAA level before being offered a professional contract. Even then it took several years of development to get to the NHL, a path that Botterill will be quite familiar with given he was an assistant GM of the Penguins and ran their minor league system at the time. If there is anyone around the league that knows more than Rutherford about Sheary, it's Botterill.
That said, Sheary did have just 30 points last season and has proven to be an extremely streaky scoring threat. There are times where all his hard work and speed result in very little, as we saw in the playoffs when he was held to just two assists through 12 games. Buffalo will hope a return to playing with skilled forwards will jump start that offensive touch, and get him back to the 23-goal man he was in 2016-17.
Hunwick had already worn out his welcome in Pittsburgh, just a single year into the three-year $6.75MM deal he signed last summer. There was never any bad blood between the veteran defenseman and the coaching staff or organization, but he couldn't find a fit in the lineup and ended up playing in just 42 games. Getting rid of his contract was key this offseason, now that Jamie Oleksiak has taken his role at the bottom of the defensive corps and the team could be interested in bringing in players like Jack Johnson.
Should Johnson still be a target for the Penguins, they certainly have enough space now to fit him in. With the reputation Rutherford has for trading though, it seems just as likely that Pittsburgh will be involved in talks for players like Jeff Skinner, Max Pacioretty or Artemi Panarin, all three of whom are heading into the final year of their current contracts. Whether the price tag on any of them would interest the Penguins isn't clear, but they now have the cap room—over $10MM in fact—to make a much bigger splash.
For Buffalo, adding two roster players for a conditional mid-round draft pick is nothing short of brilliance by Botterill. The Sabres aren't in salary cap trouble and can easily afford to take a swing on both. Sheary provides a high reward player who could blossom in Buffalo, while Hunwick represents an upgrade on some of the defensemen the team iced last season. Even though the 33-year old didn't fit into the Pittsburgh system, doesn't mean he can't be a useful sixth or seventh defenseman for the Sabres going forward.
Elliotte Friedman of Sportsnet first tweeted that there were "rumblings" of a trade between the Penguins and Buffalo Sabres surrounding Conor Sheary. Darren Dreger of TSN reports gave us the Hunwick addition and the conditions of the trade.
Photo courtesy of USA Today Sports Images