The Nashville Predators already made it clear this morning that they likely wouldn't be bringing back Alexei Emelin, and that Scott Hartnell's tenure with the team was essentially over. GM David Poile also touched on an upcoming negotiation with defenseman Ryan Ellis, which Adam Vingan examines in a piece for the Tennessean. Ellis has one year left on his current contract, and would be eligible for an extension this summer. He's very open to signing a new deal with Nashville, as he told Vingan:
I love it here. My fiancée loves it here. If it was my wish, I'd finish my career here. So we'll see what happens.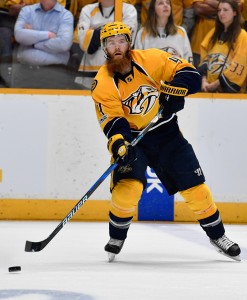 Ellis has been one of the most underpaid players in the league the last few seasons, carrying a cap hit of just $2.5MM during his five-year, $12.5MM contract signed in 2014. The 27-year old has developed into one of the best two-way defensemen in the league, and raised to new heights this season when he recorded 32 points in just 44 games. His season was limited by the knee surgery he underwent last summer, but after returning he produced at an incredible rate for the Predators and was back to driving possession while logging more than 23 minutes a night.
Oddly, Ellis' name hasn't been mentioned as much as some of the other defensemen scheduled to hit unrestricted free agency in the summer of 2019. While Erik Karlsson, Drew Doughty and Oliver Ekman-Larsson have taken all the headlines, Ellis has flown somewhat under the radar as a potential top pairing defenseman that could be available. That's likely due to his role on one of the best defensive groups in the NHL, sometimes overshadowed by the flamboyance of P.K. Subban or steady play of Roman Josi and Mattias Ekholm. Make no mistake though, if Ellis was to hit the open market he would have dozens of teams knocking down his door to try and sign him.
That should lead to quite the raise if he does re-sign with the Predators, and one that isn't necessarily a given. The team already has quite a bit of salary tied up in those other defensemen, and with Kyle Turris' $36MM extension kicking in next year there is a cap crunch coming in Nashville. While right now Ellis' low cap hit is one of the reasons that the team can have so much depth, a substantial raise—which could potentially push him into the $6-7MM range—would leave the team with some tough decisions elsewhere on the roster. Josi is scheduled to become a UFA in 2020, while there are already decisions to be made with pending RFA Juuse Saros and incumbent starter Pekka Rinne, who has just one year left on his current contract.
Either way, Predators fans should be pleased that Ellis is already so open about a potential extension. The 11th-overall pick in 2009 has proven any doubters wrong by showing that a relatively undersized defenseman can be successful in his own end, and should be a big part of the team for years to come.
Photo courtesy of USA Today Sports Images