While the playoffs are ongoing, many teams have already started their offseason planning.  What storylines lie ahead around the league?  Our Offseason Keys series continues with a look at the New York Rangers.
While the Rangers were hopeful to be battling it out for a postseason spot, they certainly didn't hesitate to start selling when they no longer believed a playoff position was feasible.  They were very active at the trade deadline and they certainly will be a team to watch for at the draft with three first-round picks in their pocket.  Beyond deciding how to use those (keep them all, trade up, etc), here are some keys to their offseason.
Find Their Next Coach
In a move that didn't come as too much of a surprise, GM Jeff Gorton decided to make a coaching change and let veteran head coach Alain Vigneault go.  For a while, it looked like their sights were set on Denver University bench boss Jim Montgomery but instead, he went to Dallas.  As a result, New York is the lone team still on the market for a head coach.
Before they can really identify who is next on their list, Gorton may need to make a decision on just how deep this rebuild will go.  If they want, they can turn this around pretty quick and if that's the plan, then a more veteran coach might be the way to go.  If they plan to rebuild and restock the cupboards for a couple more years though, a first-year coach becomes a more palatable option.  Considering Montgomery appeared to be their target, the latter is the likelier scenario.
Some coaches have been speculatively linked to the Rangers so far.  Boston University's David Quinn is another college coach that they're believed to have interest in but it appears he wants to stay where he is while he has already been tabbed to run the bench for the USA at the next World Juniors.  Sheldon Keefe is having another successful season with Toronto's AHL team and will likely be in the mix as well.  Alternatively, if they want to go with someone more experienced, they could look at veterans such as Dan Bylsma and Dave Tippett or current assistant Lindy Ruff.
Address The Defense
While it wasn't necessarily a big deal down the stretch, the loss of Ryan McDonagh as part of the deadline day trade with Tampa Bay is something they're really going to feel in 2018-19.  Kevin Shattenkirk didn't have a great first season in New York while Marc Staal, while still serviceable, is better used in a lower role, something that may not be an option if their back end is left unattended.
One player who was supposed to help a bit in that regard was Brendan Smith.  Signed to a four-year, $17.4MM extension after joining them at the 2016-17 deadline, he was supposed to solidify their top-four.  That didn't happen and he eventually cleared waivers.  Now, Gorton is faced with a tough decision – are they better off buying him out, trading with retention, trying to find a swap of bad contracts with another team, or let this ride out?
In the meantime, the Rangers appear to be positioned to give their youngsters a lot of playing time.  Brady Skjei (a pending RFA) is a safe bet to play a big role but players like Anthony DeAngelo, Rob O'Gara, Neal Pionk, and John Gilmour aren't as proven.  Even though the mantra of a rebuilding team is to let the prospects play, they may still want to add a veteran that can ease some of the pressure and perhaps allow one of those younger defenders to play top minutes at the minor league level.
Re-Sign Their Key RFAs
Not many teams have as many notable restricted free agents as New York does, especially up front.  Skjei is their key defender to re-sign on the back end but four of their top-nine forwards are in need of new deals and all of them have arbitration eligibility.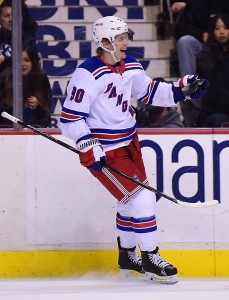 The most prominent among these is center Vladislav Namestnikov.  He was the key player coming back as part of the McDonagh deal and at the time the trade was completed, he was playing a significant role with Tampa Bay and it looked like he had established himself as a legitimate scoring forward in the NHL.  Things didn't go so well in his new home, however.  He collected just two goals and two assists in 19 games on Broadway which largely overshadows the 44 points (20-24-44) in 62 games with the Lightning.  Were his struggles just a short-term thing or a sign of things to come?  If they suspect the latter, it's hard to give him a long-term deal but with him just being two years away from UFA eligibility, a short-term 'prove it' deal is quite risky.  This is going to be a particularly interesting case to watch.
Center Kevin Hayes plus wingers Ryan Spooner and Jimmy Vesey are also in need of new deals.  Hayes is coming off of a season where he set career highs in goals (25), faceoff percentage (50.5%), and average time on ice (17:21) which will help his case should it get to a hearing.  Spooner quietly posted the highest point-per-game average of his career and is only one year away from UFA eligibility.  Meanwhile, Vesey's sophomore campaign was a lot like his rookie year so a shorter contract may be the way they go there.  Any way you look at it, Gorton is going to be quite busy these next couple of months getting this many regulars locked up.
Photo courtesy of USA Today Sports Images.