While New York Islanders fans continue to watch the NHL playoffs and several of their players compete in the IIHF World Championships, there is something eating at the back of their mind. John Tavares remains unsigned, now into May. With less than two months remaining until the Islanders' superstar captain can test free agency, chatter is beginning to increase once again even without much coming from the Tavares camp.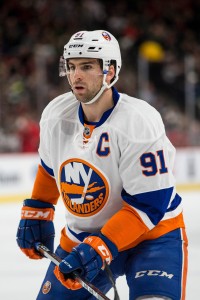 Recently, Craig Custance of The Athletic listed some teams who could potentially pursue the top free agent this summer. Today, another extremely well-respected hockey insider weighed in. During his latest "Bobcast" TSN's Bob McKenzie responded to a listener question by explaining his thoughts on Tavares. Though he admits that it's been quiet, McKenzie's "gut" tells him that it's more likely that the centerman ends up on the open market than re-sign with the Islanders.
That seems to be the prevailing idea lately, but one thing has to be made clear. Tavares himself has never wavered from the answer that he would love to stay in New York long-term. He has played it slow, and will review all options before making a decision. The interesting part of that decision is that the Islanders could make a huge splash elsewhere to try and keep their captain at home. With two first and two second round picks thanks to last summer's Travis Hamonic trade, along with nearly $35MM in cap room for next season, the Islanders could potentially be the biggest spenders this offseason.
Even if Tavares leaves, there's no reason to think the Islanders will throw in the towel. With another burgeoning superstar talent in Mathew Barzal just now showing how good he can really be, the team could build around him and compete next season. Even without Tavares the team should still have enough offensive talent, and an improved defense corps and goaltending situation could make them contenders in the Metropolitan Division.
Obviously, those chances would be strengthened with Tavares still in the fold. But though their decisions will be based on whether he comes back, don't think the Islanders are undoubtedly heading for a rebuild should he decide to take his talents somewhere else.
Photo courtesy of USA Today Sports Images