After early reports that a deal was close, the Vancouver Canucks officially announced that Erik Gudbranson has signed a three-year extension worth a total of $12MM. A cap hit of $4.0MM will be a raise over his current $3.5MM, and delays his unrestricted free agency until after the 2020-21 season. The contract comes without any trade protection, and the salary is broken down as follows:
2018-19: $4.4MM
2019-20: $4.6MM
2020-21: $3.0MM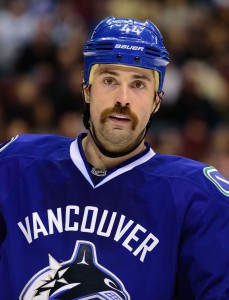 Gudbranson is a polarizing figure when it comes to scouting the NHL these days. While more and more small skilled defensemen are entering the league, he remains a throwback to a slower, more physical style. The third-overall pick from 2010, Gudbranson has just 53 points in 380 career games but is a big body that can be used on the penalty kill and hold his own in the defensive zone. Analytical critics may point to his bad (and declining) possession metrics as a point against him, but obviously the Canucks felt he was important enough to lock up.
It's important to note that Gudbranson was set to be one of the youngest defensemen on the free agent market this summer, and likely would have gotten a similar deal from someone else. His draft pedigree and experience are still seen as positives for teams looking to get a bit stronger on the blue line, and there was interest in him from around the league as the deadline approached.
Unfortunately though, this takes away a potential trade asset for the Canucks in the next week. Vancouver is in the beginning stages of something of a rebuild, with Henrik and Daniel Sedin getting closer to retirement and a new wave of young talent coming through the ranks. Gudbranson could have been used to supplement that young talent with even more draft picks or prospects, though GM Jim Benning was clear that he would surround those players with experience to help them develop.
There is also an argument to be made that Gudbranson still has another level that he's been kept from due to injury. He's never been able to complete a full season without facing some injury, and played just 30 games in 2016-17. There are plenty of examples of defensemen taking a step forward in their mid to late twenties, and Gudbranson has only just turned 26. The deal is far from cost prohibitive for the Canucks, especially as it is front loaded and contains zero trade protection.
Photo courtesy of USA Today Sports Images