The Boston Bruins have found their defensive depth, acquiring Nick Holden from the New York Rangers in exchange for a 2018 third-round pick and minor league defenseman Rob O'Gara. There is no salary retention in the trade. Boston had been sniffing around for a defensive addition, even linked to fellow Rangers defenseman Ryan McDonagh at one point.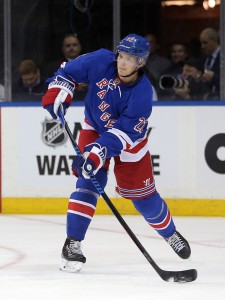 In Holden, the Bruins add a legitimate NHL defender for a relatively low price. Scheduled to become an unrestricted free agent this summer, the 30-year old carries just a $1.65MM cap hit and has shown an ability to log big minutes in the past. Coming off his career-high of 34 points last season, Holden has just 12 this year while starting to show the beginning of a decline. A solid puck-mover, he nevertheless gets his team in trouble sometimes due to bad turnovers and like the rest of the Rangers defense has had trouble with defensive zone coverage this year.
Boston may be a perfect fit for the undrafted defenseman, as he'll be able to play less significant minutes and face easier competition. The Bruins defense corps is already a good one, and just needed some depth for what looks to be a long playoff run. Where Holden will fit in is unclear, but Boston now has plenty of options on the blue line.
Getting a third-round pick for Holden is another good return for the Rangers, as it was unlikely they would retain his services in free agency. The team now has seven picks in the 2018 draft, and will likely add to that over the coming days. Rick Nash and Michael Grabner are the other big rental pieces the Rangers hold, and both are expected to be on the move before Monday's deadline.
New York though has said that they're looking for players, not just draft picks at the deadline. O'Gara is an interesting addition even if he hasn't made much of an NHL impact just yet. The 24-year old has played 11 games with the Bruins over the last two years, but has shown an excellent shutdown ability in the minor leagues. The 6'4″ defenseman has a good active stick and is willing to engage physically. Whether he gets a chance in New York right away will likely depend on how active they are over the next few days, but as a restricted free agent he can stay in the organizations plans going forward.
Photo courtesy of USA Today Sports Images