With the trade deadline approaching, we will be profiling several players in the weeks ahead that have a good chance to be dealt by February 26th.
Ever since the Vegas Golden Knights were contructed, the plan had always been to build through the draft, but add a few veteran players they could move at the trade deadline. While James Neal was an obvious choice when the team selected him from Nashville Predators, no one was as confident that veteran winger David Perron would be as successful. Yet one season in, Perron is having a one of his best seasons of his career. The question now is does the team still want to trade him?
Contract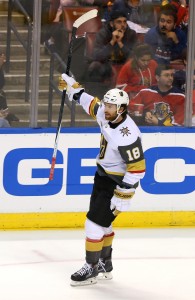 Perron is in the final season of a two-year, $7.5MM contract—$3.75MM cap hit, $3.75MM salary that he signed with the St. Louis Blues. He will be a UFA in July, and a modified no-trade clause in which he can submit three teams he doesn't want to be traded to.
2017-18
Perron has been fantastic on the Golden Knights' second line along with Neal and Erik Haula this season. Acquired via the expansion draft from St. Louis, the original plan had been to move him at the trade deadline, but instead, he's made himself a key top-six player on a team that has the best record in the Western Conference. While he has just 13 goals this year, that's still on target for his best goal-scoring season since 2013-14 when he potted 28 goals when he was with the Edmonton Oilers.
However, what makes his game stand out more than anything is his ability to move the puck. His 36 assists puts him already at 49 points with still almost a third of a season left. That already gives him more points than he's had since that 2013-14 season in Edmonton. Add that to his clutch play in key moments, which includes four game-winning goals and he's become too good to move.
Season Stats
48 GP, 13 goals, 36 assists, 49 points, +7 rating, 36 PIM, 89 shots, 17:42 ATOI, 48.9 CF%
Potential Suitors
At this point, almost any team might want to get a hold of Perron as a player rental for the upcoming playoffs. Even at $3.75MM, that's a pretty good deal for a 29-year-old player having a great season. However, there is little chatter considering where the Golden Knights stand at present. General manager George McPhee has been non-committal to whether they intend to be buyers or sellers, but most believe they won't be sellers.
Likelihood Of A Trade
Extremely unlikely. While you can never say never, Perron is a fixture for a team that looks ready to make a deep playoff run in their first-ever season, which no one predicted. With the team's chemistry operating at peak efficiency, moving one of their key pieces could wreck their success. Once considered a trade deadline candidate, it looks like Vegas will hold onto him as their own player rental. While there has been little early indication that Vegas intends to extend Perron's contract, that's still a possibility as well.
Photo courtesy of USA Today Sports Images