In what will surely make the goalie market quite different this summer, the San Jose Sharks have signed Aaron Dell to a two-year extension worth a total of $3.8MM. Dell was scheduled to become an unrestricted free agent on July 1st. The salary breakdown is as follows:
2018-19: $2.2MM
2019-20: $1.6MM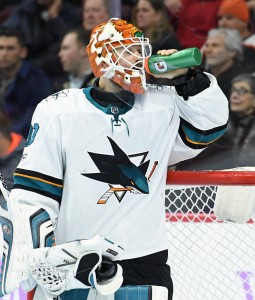 Despite having just 45 NHL appearances under his belt at age-28, Dell has played well enough that he could have been considered a starting option on the open market. The free agent signing out of the University of North Dakota was leading the league in several categories at one point this season, and now has a .912 save percentage through 25 appearances.
Earning just $675K on a two-way deal, Dell is one of the most cost-effective goaltenders in the entire league this season. With starter Martin Jones is starting a six-year, $34.5MM extension next season, the Sharks could have a solid tandem locked up for at least two years. Though there was no guarantee he would get looks as a starter on the open market, he's giving up the chance to become a #1 somewhere else.
With his play the last two seasons, Dell had set himself up to follow the footsteps of goaltenders like Scott Darling and go from relative obscurity as a backup to starting goaltender. We discussed the dangers of such a pursuit earlier this year, but the Sharks re-signing him means no team will have to make that tough decision. Instead, he'll be able to continue working as one of the more reliable backups in the league, and try to help the Sharks to another Stanley Cup Finals appearance.
Kevin Kurz of The Athletic first reported that the deal was close.
Photo courtesy of USA Today Sports Images