Much was said yesterday about San Jose Sharks goaltender Aaron Dell, after Pierre LeBrun profiled him on the latest edition of Insider Trading on TSN. LeBrun compared him to a certain former Chicago Blackhawks netminder:
Generating some interest I think, or at least people are taking notice. Could he be this year's Scott Darling? The guy that goes from backup to number one. A year ago Darling was entering his UFA year getting a lot of interest. Aaron Dell, also, UFA on July 1st. Now, do the Sharks use him as trade bait closer to the February 26th trade deadline, or do they think about re-signing him as insurance to Martin Jones. We don't know that yet.
At one point in the offseason, being labeled as this year's Darling would have been a compliment. After all, Darling hit a big payday in Carolina when he signed a four-year, $16.6MM contract to become their new starter. It was a huge raise for a player who'd only been on a one-way contract for a single season, and had never made more than $600K in a year.
The comparison isn't even fair on its face. Darling had been the backup in Chicago for three seasons, playing in 75 regular season games with the Blackhawks and posting a superb .923 save percentage. That also came with a five-game stint in the playoffs during Chicago's 2015 Stanley Cup run where he admirably held the fort and went 4-1 with a .936. Darling had basically never shown anything but an exceptional ability at the NHL level, even if he did come by it later in his professional career.
Dell on the other hand has just 31 appearances under his belt in San Jose, and though so far they've been incredible—including a league-leading .939 save percentage this season—it's hard to crown him a starting goaltender with such little experience.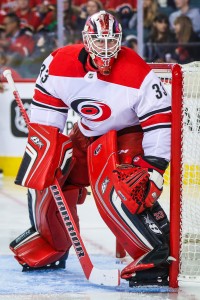 Anyone looking to place the mantle of "starter" on him should do so with caution, and you don't have to look much further than the comparison LeBrun makes. Darling has been one of the biggest disappointments in Carolina this season, posting an .899 save percentage and allowing some unfortunate goals in the process. If he can't get his game back together, that contract could look awfully bad.
The thing is, these aren't improving goaltenders. Darling will turn 29 in a week's time, and Dell isn't far behind with a birthday in March. They've put on solid work as backup goaltenders, but starting in the NHL on a nightly basis is a different game entirely.
It's true, that San Jose could use Dell as solid trade bait as the season progresses. We've examined recently how bad the goaltending market is right now, and that shiny save percentage should entice just about anyone looking for depth at the position. But come July 1st, signing him to a starter-type contract will be a risk. It's not clear anyone will be willing to take it.
Photo courtesy of USA Today Sports Images