With the trade deadline now just over a week away, this edition of the PHR Mailbag features plenty of questions about the trade market.
SFGiantsFan28: Do you see the San Jose Sharks doing anything before the deadline? Can they replace Joe Thornton without having to give up high draft picks or prospects?
mz90gu: is there a forward with a similar contract the Sharks can swap for Paul Martin if they can't trade him?
I'll lump these two together since they're both about the Sharks.  I've been expecting San Jose to do something trade-wise all season long but they've stayed the course and I can't see the Thornton injury causing them to drastically change course.  If they want a top-six forward to replace him, they'll have to move top picks or prospects as it's quite difficult to get a core player without losing a key young asset or two.  A third line center seems like a realistic proposition while allowing them to keep at least most of their cap room in place for next offseason where they should be big players.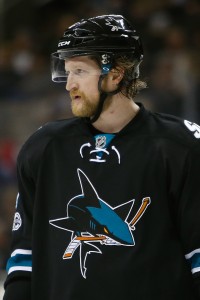 Martin is logging some big minutes with the Sharks' AHL affiliate but he isn't playing well enough to really give himself much value around the league.  In terms of swapping his contract for a similar forward, Buffalo's Matt Moulson springs to mind.  The cap hits are quite close ($4.85MM for Martin, $5MM for Moulson) and they each have one year left on their current contracts.  Buffalo needs some help defensively and Moulson has been quite productive since clearing waivers earlier this season.  Jori Lehtera ($4.7MM cap hit through 2018-19) would be another option but the Flyers aren't likely looking to add defensive help.  Tyler Ennis ($4.6MM cap hit through 2018-19) in Minnesota also fits the bill but the Sharks would likely either have to retain or take some other contract back as the Wild have very little cap space to work with.
ThePriceWasRight: What is the next best move for the Sens? Trade Hoffman? Smith?  How likely is it they buy out Burrows?
After vastly overpaying for Matt Duchene and then giving Dion Phaneuf away for pennies on the dollar value-wise, GM Pierre Dorion needs a big win with his next trade.  The problem for him here will be that it's shaping up to be a buyers' market for non-rental players.  That's going to make it hard for him to get maximum value for a player like Mike Hoffman so I would suggest they would be wise to hold onto him and look towards moving him near the draft.
Players like Zack Smith and Jean-Gabriel Pageau would be the ones I'd be looking to trade if I was in Dorion's shoes.  Both are on decent contracts (Smith at $3.25MM through 2020-21, Pageau $3.1MM through 2019-20) but aren't bargains for what they provide either.  They also happen to be centers which are in short supply but high demand which would help their trade value.  If the Sens are looking to rebuild (and it appears they are), these are the types of players that could be deemed expendable to them and valuable to others.
As for Burrows, although he is having a tough season, I have a hard time thinking he's going to be bought out.  With only the one year left on his contract, they'd be better off offering to retain 50% of his deal in a trade as that would cost them less than the two-thirds (over two years) they'd be giving him in a buyout.  At $1.25MM, someone would take a chance on Burrows.  The Phaneuf-Gaborik trade showed that money is going to play a big factor in their decision making so the route that costs them the most money (the buyout) probably isn't the one they'll want to take.
vegasloveforthebills: What are the Golden Knights going to do? Buy, sell or a little of both?
I think Vegas will be pretty quiet at the trade deadline.  I can see them offering to retain half of Jason Garrison's deal to give him a chance elsewhere and maybe trying to deal fellow blueliner Griffin Reinhart as well to try to get out of the second year of his contract.  They're not going to get much for those players, however.
In terms of the NHL roster, I don't think they're going to do much.  Their four-line attack has been huge for them so I can't see them wanting to shake that up and their defense has come along nicely as well.  I can see them looking to add a little depth up front in case of injury (perhaps another waiver claim) and considering the bad luck they've had between the pipes, another goalie may not be a bad idea either.  James Neal and David Perron would yield nice returns as rental players but moving those two out would be tough to justify considering where they are in the standings.
The other challenge that has to be considered here is that Vegas simply doesn't have a full pipeline of prospects to deal from; their reserve list is the shortest in the league.  Teams like Tampa Bay can afford to move a youngster or two because they have a deep prospect pool but the Golden Knights just aren't in that situation with this only being their first season in the league.
@DAN35NY: When will the Rangers start to sell?
acarneglia: What would trade packages for Nash, McDonagh and Grabner look like?
Again, with both of these being about the Rangers, I'll lump them together.  I don't seem to have a great track record predicting what they'd do considering I didn't expect them to sell at all this year but at the very least, they'll sell off their rental players in the coming weeks.  I still think players signed beyond this season may be more offseason moves but I can see a scenario where someone pays a premium for Ryan McDonagh.
As for what some trade packages will look like, I don't believe GM Jeff Gorton will be able to get his asking price for Rick Nash.  Even with 50% retention, his cap hit will be tough to absorb for some teams which will lessen his market.  I expect the centerpiece of a deal for him will be an already-drafted prospect plus a second-round pick and perhaps a roster player to balance out the money.  In Michael Grabner's case, his contract will be easier for teams to absorb and a second-round pick plus a lesser selection would be my guess of what he will yield in a trade.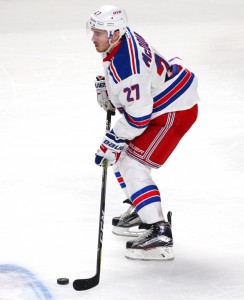 Then there's McDonagh.  I would peg him as the most valuable non-rental player available and since he plays a premium position, he may be the one player where other teams will really be willing to get into a bidding war for as he would be the final piece of the puzzle for some contenders.  The Rangers should be able to command a first-round pick, a top youngster, plus some other piece of value (another pick or roster player).  If they want to move him now, they will get the best package of any player moved at the trade deadline in return.  If not, they will be in line for a similar package at the draft.
goatpowerd: What are the Florida Panthers going to do this year?
The Panthers are a team that I could see both buying and selling over the next week or so.  Despite their run as of late, they're still probably not going to make the playoffs this season so they will likely look to move their expiring contracts at the very least.  Pending UFA winger Radim Vrbata has already been asked to submit his no-trade list while defenseman Alex Petrovic, who voiced his frustration with his role earlier this season, is also someone who could be on the move.  He still has a year of team control left after this one which should help garner some interest.  Winger Jamie McGinn is someone I wouldn't be surprised if they try to move as well.
On the other side, Florida still has a strong young nucleus with some quality prospects expected to make an impact in the very near future such as winger Owen Tippett and center Henrik Borgstrom.  However, with their goaltending situation being what it is with an aging Roberto Luongo as the starter, their window to win is still in the near future.  Between that and with several teams making quality players with term available, Florida could very well look to take advantage of that to see if there is a buy-low candidate that makes sense for them for next season and beyond.
Photos courtesy of USA Today Sports Images.