The New York Islanders have some of the biggest names scheduled for free agency this summer, but now you can take one off the list. The team has reached a six-year extension with Josh Bailey that will carry an annual average value of $5.0MM.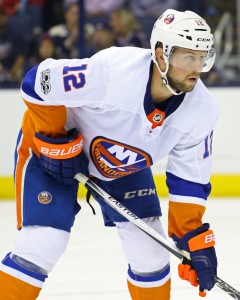 Bailey was ranked #6 in our midseason free agent power rankings, and has done nothing to justify moving him from that spot over the last month. The 28-year old forward is in the midst of an outstanding season, already setting his career-high in points with 62 through his first 57 contests. That includes 47 assists, good for fifth in the entire NHL behind only Jakub Voracek, Blake Wheeler, Johnny Gaudreau and Claude Giroux. His point total itself puts him among the top-20 in the NHL, and had been setting him up for a huge ask on the free agent market.
The Islanders originally drafted Bailey ninth-overall back in 2008, but he didn't quite break out until last season when he recorded 56 points. He's become a perfect fit for John Tavares, the biggest fish that the Islanders are trying to get under contract before July 1st. They have to be hoping that retaining Bailey will help those contract negotiations when they begin in earnest, though we likely won't get a read on that until the season is over.
For the time being, Bailey will be happy with the substantial raise on his 2017-18 $3.3MM cap hit. He could be giving up a little bit of money, but will now get to stay with the only organization he's ever known for the majority of his career. The Islanders will get an excellent playmaker for the foreseeable future, one that can likely find a home alongside Mathew Barzal if Tavares doesn't stick around.
Bob McKenzie of TSN was first to report a deal was close, giving us the salary parameters.
Photo courtesy of USA Today Sports Images