With the trade deadline fast approaching, we will be taking a closer look at the situation for each team.  Where do they stand, what do they need to do, and what assets do they have to fill those needs?  Next up are the Vancouver Canucks.
The Vancouver Canucks found themselves trying to rebuild while continuing to hold onto some of their veteran forwards, namely Henrik Sedin and Daniel Sedin. The team hoped it could rebuild on the fly this year with new head coach Travis Green and early on, the Canucks started strong, but injuries to key players such as Bo Horvat and Sven Baertschi prevented the team from continuing their success. Instead, the Canucks have dropped in the standings and find themselves ready to rebuild for another year.
Record
21-24-6, tied for 6th in Pacific Division
Deadline Status
Seller
Deadline Cap Space
$4.7MM – full-season cap hit, 2/3 retained salary transactions, 45/50 contracts per CapFriendly
Draft Picks
2018: VAN 1st, VAN 2nd, VAN 3rd, VAN 5th, VAN 6th, VAN 7th
2019: VAN 1st, VAN 2nd, VAN 3rd, VAN 4th, VAN 5th, VAN 6th, VAN 7th
Trade Chips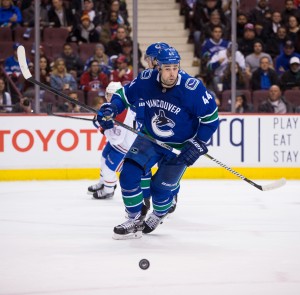 The Canucks have two key trade chips in defenseman Erik Gudbranson and veteran winger Thomas Vanek, but whether the team will move them is unknown. One issue that confuses things is the Sedin twins potential interest in returning for another season next year. If the twins want to come back, the team may be more willing to hang on to their veterans to give the Sedins another year with the potential of making the playoffs.
The team has said they are considering extending Gudbranson, but rumors are that no negotiations have begun, which suggests that Gudbanson is very likely to move to another team unless they start negotiating now. A solid, but unspectacular defenseman, he will never live up to being the third-overall pick in 2010. He would be a quality addition to a team that needs help in that area. If the team wants to move Vanek, they shouldn't have too much trouble as the 34-year-old Vanek is putting up solid numbers and already has 14 goals. He could be valuable to a team in need of a veteran scorer. In neither case would they be likely
Five Players To Watch For: D Alexander Edler, C Sam Gagner, D Erik Gudbranson, D Christopher Tanev, LW Thomas Vanek
Team Needs
1) Offensive Defensemen: The team truly lacks any offensive defenseman and it shows. Edler, the team's top scoring defenseman is only the ninth leading scorer on the team. Their power play has little, if any support from their defenseman and the team has few defensive prospects that can put points on the board. A prospect with a good shot and the ability to put the puck in the net might be exactly what the team needs.
2) Prospects/Picks: What Vancouver wants more than anything else is future talent. Vancouver actually has quite a bit of young talent already coming through the system and wouldn't mind even more. Last year, the team picked up several prospects including Jonathan Dahlen, Nikolay Goldobin and a conditional pick in moving out Alexandre Burrows and Jannik Hansen. If the team can add some picks or another prospect whether it's an offensive defenseman or more wing help, the team should be better prepared for the future.
Photo courtesy of USA Today Sports Images.