A month ago, one might have been able to understand a Vancouver Canucks team that wasn't planning on selling at the deadline. After all, the club was 14-10-4 and playing like a potential playoff contender. It was unexpected, but with new head coach Travis Green bringing the best out of a rag-tag lineup and young players like Bo Horvat and Brock Boeser leading the way offensively it didn't seem so far out of the question.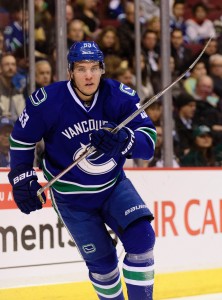 Then disaster struck. The team would announce that Horvat would be out long-term with a broken foot, and a few days later Sven Baertschi would break his jaw when a puck struck his face. Since Horvat's injury the team is 2-9-1, and quickly dropping out of any playoff talk. They now sit second-last in the Western Conference, only ahead of the lowly Arizona Coyotes, seven points out of a wildcard spot. Even with a healthy lineup that would be tough to overcome, and the Canucks are far from healthy.
Today, at a press conference to discuss the state of the franchise (audio from Sportsnet 650), team president Trevor Linden spoke about the upcoming trade deadline and how his team would approach it:
I think when you talk deadline, plans going forward a lot can happen. There's a lot of hockey left between now and then. As always, we constantly talk as a group about where we're at and where we need to be. We understand that our eye is focused on the future, and we're excited about some of the young players who've taken steps here…

…if there's an opportunity to make this team better we're going to do that, but it will be with our eyes focused firmly on the future. 
When pressed on the idea of moving a defenseman in particular, Linden said that they aren't in a rush to trade away anyone, but that it could change at any moment. The Canucks don't have a single defenseman signed past the 2019-20 season, and could use several of them as potential trade bait at the deadline. Erik Gudbranson, a pending unrestricted free agent, isn't the biggest name on the market but is likely to either re-sign with the team or be dealt at some point.
It seemed as though this was the plan all along when the Canucks signed the trio of Thomas Vanek, Michael Del Zotto and Sam Gagner in the offseason. All three were low-risk, high-reward players who could turn into excellent assets for the organization if they returned to their top form. Vanek currently sits second on the team in scoring, while Del Zotto has logged more than 21 minutes a night all season.
Like last season, when the team traded away Jannik Hansen and Alex Burrows for a pair of interesting prospects, the Canucks are one of the most likely teams to sell over the next few months. With interesting assets on the blueline, and a prospect cupboard that's starting to fill up, a rebuild seems well on its way in Vancouver.
Photo courtesy of USA Today Sports Images