With the trade deadline now just over a month away, this edition of the PHR Mailbag looks at some of the potential rental players that could be on the move as well as a look at the Blues and several Metropolitan teams.
acarneglia: Do you see the New York Rangers as buyers or sellers at the deadline? If buyers who do they bring in? If sellers who goes?
It's a cop-out answer but right now, it's too early to tell.  I suspect GM Jeff Gorton would like to give this core one last kick at the can but with how tight the Metropolitan Division is, we're simply not going to know if they're going to be in it until closer to the deadline itself.  This may be a decision that goes down to the last few days before February 26th.
If they were to buy, I don't think they'd be looking to make the big splash.  They won't be moving their top prospects and they don't have a surplus of draft picks to deal from either.  As a result, it won't be surprising to see them going bargain hunting for a rental bottom-six forward (preferably a center) and some defensive depth.  I don't believe they're close enough to being contenders to justify doing much more than that.
On the flip side, things could be interesting if they decide to sell.  Michael Grabner would undoubtedly draw a lot of attention as would Rick Nash (as long as New York retains money or takes a contract back).  Nick Holden isn't having a great year but some teams should have interest in him.  I wonder about Kevin Hayes as well as someone that's a non-rental option.  It's out there that they may not be against doing another core shakeup but unless they go into the tank these next few weeks, that may be more of an offseason deal like they did with Derek Stepan near the draft.  Ryan McDonagh and Mats Zuccarello have one year left on their contracts after this and would be players to watch for in that scenario.
Paul Heyman: Will the Blues trade for Mike Hoffman or Max Pacioretty?
We know St. Louis is going to be looking for help on the wing and GM Doug Armstrong said late last month that they're unlikely to pursue rental players.  (For what it's worth, I think they should be open to adding pending free agents instead of limiting their options.)  Hoffman and Pacioretty would certainly fit in well and they are the top non-rental wingers that are known to be available.
There are a couple of factors that give me pause in thinking one of them will actually wind up in St. Louis, however.  The first is money.  Payroll room is extremely limited even with Robby Fabbri's LTIR opening so they will have to come fairly close to matching outgoing contracts.  Carl Gunnarsson ($2.9MM) seems like a logical fit to go but that's well below what Hoffman (just under $5.2MM) and Pacioretty ($4.5MM) make.  I also don't get the sense that the Blues are overly open to parting with top prospects and they would likely have to deal one or two based on the current asking prices.
Instead, I think they're going to look for someone making closer to $3MM that can play a middle-six role.  They'll get Jaden Schwartz back soon so that should cover filling the current vacancy on the top line.  If the Rangers do wind up selling, I could see Hayes being someone that they look for to fit that bill – he's unsigned for next season but is a restricted free agent with one more year of team control.  If I had to pick one of your two wingers in terms of who is more likely to go there, I'd say Hoffman simply because he'd cost less to acquire but I wouldn't put the odds of either of them landing there particularly high.
rowdelicious: Could Detroit land a prospect like Kale Clague or Michael McLeod in a trade for Mike Green?
McLeod is a fairly recent first-rounder while Clague (originally a second-rounder) is probably worth one in a trade now.  So basically, is Green worth the equivalent of a first-round pick?  He's the best rental defenseman out there but I don't think his value is quite that high.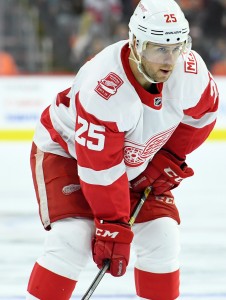 Green has tailed off a bit as of late offensively with just nine points in the last 24 games (spanning the last two months).  For a player whose calling card is his production and not his play in his own end, that won't help his value.
First-round picks, even late ones (or prospects of equivalent value), don't move as often at the deadline anymore with cost-controlled talent becoming much more important by the year.  The odd one will go for a rental but at this point, Buffalo's Evander Kane is probably the top candidate to fetch either a first or comparable prospect in return.  Guys like Pacioretty and Hoffman will also be higher on the priority list for teams that are willing to move that level of pick or prospect and moving one for one of them would be defensible given the extra year (or two) on their contracts.
Green should be able to fetch a return comparable to what they got for Brendan Smith last year (second and third-rounders), especially if Detroit is willing to retain salary.  I could even see the third-rounder being a conditional second depending on postseason success or him re-signing.  That's still a strong return but not quite at the first-rounder or similar prospect level.
@doctor_perk: With the Devils dropping six straight and a poor defensive core being exposed, do you see them making a splash for a top-line defenseman by the deadline? #PHRMailbag
Count me among those that thought Sami Vatanen would have more of an impact than he has had thus far.  I thought he was going to go a long way towards helping things out there but it hasn't happened just yet.  New Jersey's back end is certainly a weakness and they would be wise to address it again in the next month.
That said, I don't see them making a splash for a top-pairing player simply because I don't think there is a top-pairing player that is going to be moved.  Green from Detroit is the best one out there and while he can log heavy minutes, his defensive concerns aren't really going to fit what the Devils need.  Ottawa's Dion Phaneuf is a top-four option but that's a contract that a lot of teams aren't going to want to touch.
I think they need someone that can stabilize the bottom half of that back end as offensively, between Vatanen, Will Butcher, and Damon Severson (who has produced in the past), they're not in bad shape.  Fortunately, those types of players are the ones that are going to be available.
I would not be surprised at all if San Jose's Paul Martin is someone that the Devils will be watching closely as he works his way back into playing shape in the AHL.  He has been a strong defensive player in the past and his postseason experience would be useful on a team that doesn't have a ton of it.  He'd also help shore up the bottom end of that back end as well as the penalty kill.  They have the cap room to take on the contract without much concern and the asking price shouldn't be too high.  Beyond that, some of the names from the next question would serve as potential rental options for them to consider.
MrMet19: Who are the most likely targets the Islanders could swing a trade for to help out on defense or in the net?
Between the pipes, the options appear to be pretty limited.  Unlike Chicago where a lot of players could represent upgrades with Corey Crawford out, there aren't many possible upgrades for the Isles.  Aaron Dell could be one but I don't think the Sharks will move him which is why I didn't include him in the options for the Blackhawks either.  Antti Raanta makes a lot of sense and has had success in this division already while he wouldn't break the bank.  If they want to make a longer-term splash, I wonder if Robin Lehner (Buffalo) could be a fit but the asking price would certainly be higher.  Is he someone that GM Garth Snow would be comfortable giving a long-term deal to in the summer?
Green would give them a nice one-two punch offensively but I think they may prefer more of a defensive-minded player, especially with Calvin de Haan out for the year.  Jack Johnson's name is out there and unlike New Jersey, the Isles have a young defenseman that they could move in the deal which is something that Columbus is likely seeking.  Ian Cole would fit in as well but I don't know if Pittsburgh would move him in the division (same with Columbus and Johnson for that matter).  Erik Gudbranson in Vancouver might move and he would give them a different look on their third pairing while killing some penalties.  Martin from the Sharks would fit in on the third pairing as well but do they want to take on the extra year of that contract?
I'll toss out one other idea as well that also ties in with the question about St. Louis earlier.  They're likely looking to move Gunnarsson and he would be a small upgrade defensively for New York although he has another year left on his deal.  Sportsnet's Elliotte Friedman reported earlier this month that center/winger Brock Nelson could be available.  Nelson's a non-tender candidate based on the season he's having with his required qualifying offer of $3.5MM in June.  It's pure speculation on my end but I wonder if there's a fit there for something involving those two players and because of the option to qualify Nelson, it wouldn't necessarily be a pure rental situation which is what Armstrong in St. Louis wants to avoid.
Unfortunately, none of these blueliners are going to drastically change their fortunes but there just aren't a lot of top-four options available even if that's what they're seeking.  That's why I'd prioritize help between the pipes with Raanta in particular.  If he can provide good goaltending (not even great, just good), the Islanders would be in a much better position for the stretch run and that alone might be enough to get them over the top for a playoff spot.
Photo courtesy of USA Today Sports Images.