The Vegas Golden Knights have locked up one of their key offensive contributors, announcing that Jonathan Marchessault has signed a six-year extension worth an average of $5MM per season. Marchessault is one of the best values in the league this season (and last), earning just $750K in the second of a two-year deal. Pierre LeBrun of The Athletic reports the year-by-year salary for the new extension:
2018-19: $7.0MM
2019-20: $6.0MM
2020-21: $5.0MM
2021-22: $5.0MM
2022-23: $3.5MM
2023-24: $3.5MM
The contract also contains a modified no-trade clause, per Sportsnet's Chris Johnston.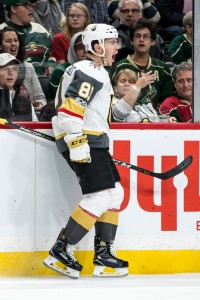 Marchessault came over from Florida at the expansion draft as the price paid for taking on Reilly Smith and his own long extension. Smith was about to start a five-year, $25MM deal that had been signed before Dale Tallon regained control of the Panthers, and was jettisoned to Vegas in exchange for allowing the Golden Knights to select Marchessault. It's turned into one of the biggest parts of the Vegas success this season, as the pair rank first and third in team scoring on the second-best club in the NHL.
Amazingly, it's not really a breakout for Marchessault this season. Last year, the diminutive forward was given a full-time role in Florida and ended up with 30 goals and 51 points. At his low price point, it was a complete shock when the Panthers allowed him to be selected, even if he was a pending unrestricted free agent.
The undrafted forward had to work hard and patiently wait for a chance to prove himself in the NHL, and will now be rewarded with a huge contract extension. The $5MM price tag, that buys out solely UFA years, is a relative steal if he keeps producing the way he has the last season and a half. Players like Mike Hoffman, Tyler Johnson, and Derick Brassard are on similar deals and are arguably less important to their respective clubs.
Marchessault also represents the first real big ticket long-term commitment by the Golden Knights. Smith and Brayden McNabb are the only other two players on the roster under contract past 2019-20, and McNabb's extension is for only $2.5MM per season. Vegas was very conscious of taking mostly expiring contracts in the draft, that they could potentially sell off at the deadline. While the selling plan may have changed somewhat given their immediate success, they're now poised to pick and choose the players they want as key contributors going forward.
Even with this extension, the Golden Knights will have close to $40MM in cap room next season when the ceiling climbs to somewhere between $78-82MM. We've discussed how they can use this cap space as a weapon in trade negotiations before, but now with the success they've found they could go a step further. Vegas could be a big player in free agency this summer, or save some room for the pending "Superclass" of UFAs in 2019.
The next name on their internal list is likely William Karlsson, their goal leader and pending RFA. Karlsson is earning just $1MM this season, and is another player deserved of a huge raise before next season. Just like Marchessault, Vegas has been good to him.
Bob McKenzie of TSN was first to report that the contract was close.