Life is good for the Nashville Predators, who currently lead the Central Division with 46 points in 33 games and are about to get a huge present for Christmas. Ryan Ellis, out all season following knee surgery, is expected to be back in the lineup on January 2nd. That's according to Predators GM David Poile himself, who told 104.5 The Zone that the defensemen is just working on his confidence after such a long layoff (quote courtesy of Thomas Willis of NHL.com):
The doctor says it's about confidence now, he's fully healed. I'm expecting Ryan Ellis will skate the last week of the year and be looking at the first game of 2018 as a time to be back.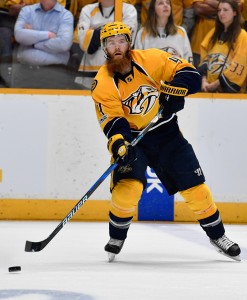 Ellis has turned himself into one of the premier defensemen in the league, scoring 16 goals and 38 points last season while being responsible in his own end every night. The 26-year old was named "associate captain" of the Predators in the offseason, after Roman Josi—who was eventually named team captain—suggested Ellis without hesitation for the job. His return will likely feel like that of a huge trade deadline acquisition, especially if he can get back to the level he played at last season.
In the past, the Predators have leaned heavily on their top two pairings to log nearly the whole game and with Ellis' return they can again. With Alexei Emelin now in the mix they can afford to ease Ellis back in, but it shouldn't be long until he's back playing somewhere near the 24 minutes a night he averaged last season. That makes the Nashville defense corps almost unmatched around the league, and will give them another advantage over the rest of the Western Conference. After a turnaround sparked by the acquisition of Kyle Turris, the Predators are a team on the rise and can be considered a legitimate Stanley Cup contender once again.
Photo courtesy of USA Today Sports Images