When the Vegas Golden Knights sent Vadim Shipachyov, Alex Tuch and Shea Theodore down to the minor leagues just prior to the season, many believed it was only a paper transaction to give them a few more days of trade negotiation. When none of the three were back up for the opener, people started to scratch their head and wonder what the front office was doing. It seemed counter-intuitive for a team that wanted to make a good first impression on a fan base.
But after five games that impression has been made. The Golden Knights are 4-1, with Shipachyov and Tuch only having to wait a few games before making their debut. Both came in the Golden Knights' most recent match, when each recorded their first NHL goals. While there were reports that Shipachyov was upset about the temporary demotion, everything seems to be sorted out now and he's up where he belongs.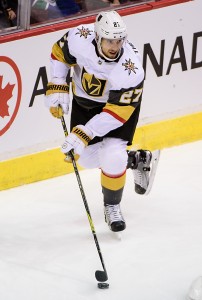 The interesting story comes with Theodore, who remains in the minor leagues. The 22-year old defenseman was one of the top prizes of the expansion draft process, coming by trade from the Anaheim Ducks in order to take Clayton Stoner's contract off their hands. Theodore has tremendous upside and is one of only a handful of players expected to be around long term in Sin City. But that term hasn't even begun yet, as he instead has suited up for three games in a Chicago Wolves sweater.
Theodore has shown that he's too good for the AHL in the early going, scoring seven points in three games—remember, he's a defenseman—while logging big minutes in all situations. While that makes many fans scratch their head on why he's not up with the big club, it actually could pay off in the long run.
Theodore is in the final year of his entry-level contract, and will head into offseason negotiations without a full season under his belt. The longer the Golden Knights keep him in the minor leagues while still winning games, the more money they could save in contract talks. While it's entirely likely that Theodore's side will end up asking for a short term deal to prove his worth, there is also a very real possibility that if given substantial minutes over the entire 2017-18 season he could have demanded a long-term deal with a big cap hit. The Golden Knights know what his potential is, and right now are betting that he won't stagnate at all by spending some more time in the minors.
If the team continues to play well, holding onto the nine defensemen currently on the roster may not be the worst solution. They obviously don't want to lose any of them on waivers, and right now having Theodore in the minors is only doing positive things for the organization. Chicago gets a player that could be considered one of the biggest defensive weapons in the AHL, while a couple more dollars are knocked off his next deal. There is a tipping point where a relationship could be harmed, but GM George McPhee likely has a better handle on that than anyone else. For all the confusion that has surrounded the Golden Knights' decisions in the early going, they seem to have the answer to every problem. If they keep winning, so be it.
Photo courtesy of USA Today Sports Images