The hot start of the Vegas Golden Knights has been one of the hot topics around the league and accordingly, dominated the questions posed for this edition of the PHR Mailbag.
@J_B_Maguire: Hard to believe we are talking about @GoldenKnights having a crisis! Does their glut on D give them some trading chips for a G?
Although it's understandable why Vegas opted to deal Calvin Pickard (to Toronto for winger Tobias Lindberg and a sixth rounder), it has left them with quite a hole with Marc-Andre Fleury and Malcolm Subban both out of the lineup.  Their spare blueliners are certainly trading chips but I'm not sure GM George McPhee would want to trade one for a player that will amount to a stopgap solution for a few weeks.  Unless they can get a waiver-exempt netminder who can go back down when their top-two return, I suspect they'd prefer draft picks or prospects for their surplus defenders instead.
That said, the Golden Knights should have some options out there if they want to give themselves another option with some NHL experience under their belts.  Andrew Hammond is clearly the odd man out in Ottawa but has had a bit of NHL success in the past and is off to a decent start with AHL Belleville.  I suspect he wouldn't mind a change of scenery if it got him an NHL look for a few weeks and the Senators, a strict budget team, would certainly like to get out of the contract.  The asking price there should be rather low and could be as simple as simply agreeing to take him off their hands via a waiver claim.
Failing that, the next targets should be other teams that have a spare veteran that they may be willing to swap for their current interim backup in Maxime Lagace to free up playing time for a youngster or save a bit of money.  Winnipeg (Michael Hutchinson), and Los Angeles (Jeff Zatkoff) come to mind as teams that might be interested in doing something like that.
None of these players are particularly exciting options but they'd represent a short-term upgrade while keeping their extra defensemen intact.  However, they probably don't need to really aim for someone more prominent to fill in for only a few weeks, especially with how well Oscar Dansk has played so far.
Connorsoxfan: After seeing McPhee's roster shenanigans with Shipachyov, are agents going to be wary of dealing with him in the future?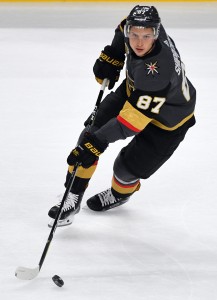 Vadim Shipachyov's case is a very rare situation where he signed a pricey contract outside the entry-level system while still having waiver exemption.  In terms of agents dealing with McPhee, it's going to primarily be via free agency where whoever signs won't be waiver-exempt when it happens.  In other words, the current situation won't be able to repeat itself so I can't see it really being a factor.  It could hurt a bit in terms of their international recruiting but a lot of the time, those players aren't signing big-money deals right away and are often expected to start in the minors so what has happened here shouldn't hurt them too much in the grand scheme of things.
It's worth noting that despite everything that has happened, the Golden Knights have been pretty good to Shipachyov through this.  They could have forced him to report to the minors at the beginning of the season when he was first sent down but they didn't, allowing him to collect his full pay in the process (which, without escrow coming into play,  actually resulted in him getting more money).  They've also allowed his agent to try to find a more immediate NHL opportunity for him which they're not required to do.  While agents (and players) around the league have certainly taken notice of the situation, they'll also be noting these factors as well which paint McPhee in a better light.
vegasloveforthebills: When will VGK finally pull off a deal(s). Or is the rumor true, no GM really wants to deal with McPhee because they are still upset on how he handled the expansion draft process?
After McPhee really took control of the transaction landscape league-wide heading into the expansion draft (with having teams take his 'pledge' in particular), I wouldn't be surprised if some of his counterparts were a bit annoyed.  I wouldn't think that's to the point where some just simply wouldn't deal with him, however.
It's not as if other teams haven't shied away from making trades with them.  Aside from the pre-arranged expansion deals, they've already made four other trades (Alexei Emelin to Nashville, Marcus Kruger to Carolina, Marc Methot to Dallas, and Pickard to Toronto) which account for a big chunk of the deals made since July 1st.
The holdup in getting more trades done is simply that their depth defensemen (Jason Garrison, Jon Merrill, Griffin Reinhart, and Brad Hunt) just don't really move the needle for other teams.  Why trade for a fringe defender when odds are the other team already has someone like that in their system?  Finding someone who doesn't is a pretty limited market to work within.
As the season progresses, many expect that the Golden Knights will eventually start to drop in the standings.  If and when that happens, their more prominent rental players will start to be made available and that's when trade talks should really start to heat up.  With them winning as often as they have early on though, that may still be a couple of months away.
Let's look at a couple of other teams now:
@MichaelJBenelli: Who can the Caps trade for a d-man?
With Washington's salary cap situation, they're in a spot where they basically have to match salary in any trade they make.  Matt Niskanen is on LTIR for now but adding a pricier option now would only create more problems when he's set to return.
Clearly, they're not going to move any of their big-name forwards for help on the back end so it's their secondary guys that become possible trade pieces.  Tom Wilson has yet to really advance beyond being a bottom-six forward in five years and has arbitration rights after the season.  In theory, they could have a cheaper physical player take his spot which could free up a bit of money to add defensive help.  Lars Eller at $3.5MM is the most expensive of their secondary group but he also plays a pretty important role.  If they want to add a top-four defender now though (which will carry a higher salary), Eller would have to be the one going the other way to match money.
Then there's Brett Connolly, who might be the most viable candidate.  He has shown flashes of being a strong player but also has been in the doghouse the last couple of years.  With a $1.5MM cap hit, he's someone that potentially could be flipped for an upgrade on the third defense pairing that makes around the same amount of money.  That's not too thrilling of a scenario but it might be all they can afford right now.
As we get closer to the trade deadline, teams will have a better sense of what type of cap room they have to play with and if they can retain salary in a deal.  That will be the best time for Washington to try to bring in someone that can have more of an impact (while not necessarily having to match money going out which frees up more options) but unfortunately for them, that's still a few months away from happening.
@dodgerskingsfan: Can the Kings keep their scoring going?? #PHRMailbag
The Kings sit fourth in the league in goals scored this season (3.6 per game) which is one of the bigger surprises of the year so far after being 25th (2.45 per contest) last year.  Head coach John Stevens has pushed all of the right buttons so far while adding former NHL star Pierre Turgeon as an offensive assistant certainly has paid off in the early going.  (In a copycat league, how many more teams will be doing something like this over next couple of years?)  However, we're still only nine games in and I think some players are overachieving at the moment.
Dustin Brown has really come to life but after being a secondary player for the last several years, I have questions about whether or not he can maintain the pace he's on, both in terms of production and ice time.  Adrian Kempe is scoring like a top-six forward right now but as a player who has been a bottom-six piece on his previous teams, he's probably going to revert to that at some point.  Not having Jeff Carter for a while (he's out month-to-month) will start to hurt them as well.
That said, this isn't to say that we should be expecting huge regression from them by any stretch.  I don't think they're going to be an elite-scoring team all season long but with how they're playing plus Jonathan Quick being at the top of his game, they look like they're going to be a team to contend with in the Pacific Division.
Photo courtesy of USA Today Sports Images.