In the wake of the Los Angeles Kings' bad news on Jeff Carter, the team has something else to cheer up their fans. Derek Forbort has signed a two-year contract extension that will pay him an average of $2.525MM per season.
Forbort has quickly become a fan favorite in Los Angeles, as he made the jump right from the minor leagues to Drew Doughty's left side. After playing in 14 games for the Kings in 2014-15, Forbort suited up for all 82 last year and averaged over 20 minutes a night. This year he's back for even more, playing sidekick to Doughty and being relied on as the team's #1 penalty killer. The 25-year old was a long time coming for the Kings, who drafted him in the first round in 2010.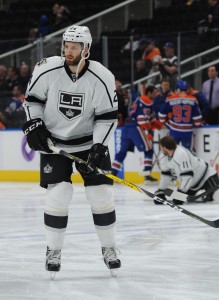 His first stop was at the University of North Dakota, where he was part of their NHL factory that churns out professionals every year. He spent three seasons with the Fighting Hawks, while also skating key minutes for Team USA in the World Juniors in two consecutive years. Forbort began to hone his simple two-way style then, and made an immediate impact for the Manchester Monarchs upon turning pro. He helped lead the team to a Calder Cup championship in 2015, before making his NHL debut the next season.
Recently there has been speculation that the Kings could deal one of their other defensemen—Jake Muzzin or Alec Martinez in particular—for scoring help. That ability comes directly because of the quick transition Forbort has made to their top pairing, and his ability to play in all situations. While the team continues to lose offensive pieces to injury, their defense remains rock-solid. The Kings have allowed just 10 goals all season, easily the fewest in the entire league.
Forbort is in the final season of his two-year two-way deal he signed in the summer of 2016, just 14 games into his NHL career. Over that span it has been one of the most valuable deals in the league, paying him just $650K at the NHL level each season. Importantly, the new contract will take him to free agency in the summer of 2020 at the age of 28, when he can really cash in with a long-term deal. While there will likely be debate over how much of his success is directly tied to Doughty, he has positioned himself in a strong negotiating position for unrestricted free agency.
The Kings, on that same note likely didn't want to commit to Forbort long-term on an expensive contract when they have Doughty's own deal to worry about. Doughty will hit unrestricted free agency in the summer of 2019, and if the Kings intend on keeping him they'll have to give him one of the biggest contracts in the league. The 27-year old is coming off a Norris Trophy win in 2016 and is generally regarded as one of the best all-around defensemen in the NHL.
Jon Rosen of LA Kings Insider first reported the deal on Twitter.
Photo courtesy of USA Today Sports Images