As many had feared, Boston Bruins goaltender Tuukka Rask has been diagnosed with a concussion and will follow the league's protocols before getting back on the ice. The injury happened in practice when Anders Bjork crashed into the goaltender. Anton Khudobin will take the Bruins net tonight with Zane McIntyre on the bench backing him up.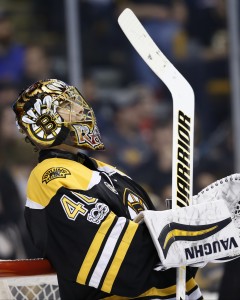 Rask has dealt with minor injuries over the last few years but has still been able to start at least 64 games for the Bruins in each of the last three seasons. The clear number one in town, the 30-year old won the Vezina Trophy as the league's best netminder in 2014 and has been one of the league's most consistent for some time. In the summer of 2013, he signed an eight-year, $56MM contract which tied him with Pekka Rinne at the time for the league's highest-paid goaltender.
While it's unclear when Rask will return, his play this season hadn't been up to his high standards. In four starts he had allowed 12 goals on 102 shots for an .882 save percentage, leading his team to a 1-3 record. Unfortunately for the Bruins and Rask, he'll have to wait at least a few days to try and right those numbers. While the concussion protocol varies widely, Khudobin will likely have the net for tonight and Saturday. The team then doesn't play until Thursday, a nice bit of scheduling as they also look to get Patrice Bergeron back into the lineup.
Speculating on the effect of concussions is a fool's errand, as players react in a wide spectrum after sustaining head injuries. Rask was pulled from a game last year after taking a puck to the neck against the Nashville Predators, but passed the tests and played two days later. It will be important to watch when he returns to practice, and how he feels the next day.
Photo courtesy of USA Today Sports Images