As training camp opens and some teams are still worried about signing their restricted free agents, the Jets have been working on extensions instead. The team today signed Bryan Little to a six-year extension worth $31.75MM ($5.29MM AAV). Little was heading into the final season of the five-year contract he signed in 2013, and will have a cap hit of $4.7MM this season.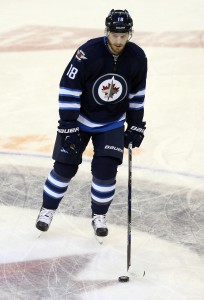 The new deal will take Little through his age-36 season, and though that is definitely a bit longer than they probably hoped it's paying off by keeping the cap hit fairly reasonable. Just this summer 30-year old T.J. Oshie, a player with only slightly better production over the years, signed an eight-year deal to stay in Washington that will pay him $5.5MM per season. Little hasn't had a 30-goal season since he was a sophomore in Atlanta, but is still a consistent point producer on a team with its eye on the playoffs and is a capable two-way center that can drive a line.
Last year Little put up 21 goals and 47 points in just 59 games, missing the first part of the season after suffering an injury on opening night. That marked the fifth 20-goal season of his career, but also unfortunately was the second year in a row he played fewer than 60 games. That injury risk is a real one, but he obviously still has the skill to be a big part of the Jets team going forward.
The Jets now have their top two centers locked in long term, with Little slotting in behind Mark Scheifele who signed what has turned out to be a very team-friendly eight-year contract last summer. Scheifele exploded for 82 points this season, giving the Jets a pair down the middle easily capable of 150 points if everything breaks right. That's an incredible feeling to have for a franchise that has made the playoffs just twice in their entire history, and have yet to even win a game when they get there. Inking Little to this extension proves that they have no interest in rebuilding anymore, and that this is the group they intend to contend with.
Next summer will still bring quite a bit of uncertainty. The Jets have 24 players who will hit free agency in one way or another, and though the vast majority are restricted free agents the team will still have to wisely plan out their salary structure. While new deals for Jacob Trouba, Nikolaj Ehlers and Josh Morrissey are important, they must retain the flexibility to pay Patrik Laine when his contract is up in two seasons. Locking Little in gives them some certainty in that regard, and will look just fine if the cap increases at all through the duration.
Jamie Thomas of Jets TV was first to report the contract, while Darren Dreger of TSN gave us the financial details.
Photo courtesy of USA Today Sports Images