With the NHL season now just a month away, it's time to look at what each team has done this summer and what to watch for in the year to come.  Today, we focus on the Vegas Golden Knights.
Obviously, looking at the Vegas Golden Knights is a bit different than the other teams. Heading into their first year in the league there are no "Key Departures" or even a record from last season. Instead, they'll go in with sky-high hopes but reasonable expectations that should allow them to succeed regardless of how they finish in the standings. Their first job this season is to entertain and educate the hockey-going public in Las Vegas, showing them how exciting the sport can be—especially when your team wins.
Remaining Cap Space: $5.62MM per CapFriendly, with 26 roster players (23 will make the team).
[Related: Golden Knights Depth Chart From Roster Resource]
Players To Watch: F Vadim Shipachyov – The Golden Knights brought in some exciting players through the expansion draft, but none quite as intriguing as Shipachyov. The Russian forward has played his entire career in the KHL as one of the most consistent offensive players in the league, and has dazzled among the best in the world at international competition. Whether or not his game translates perfectly to the NHL is still up for debate, but he's sure to put up at least a few remarkable plays to make the national highlight reels.
Shipachyov is signed for just two seasons in Vegas, and his role isn't to take them to the playoffs. Instead, bringing in high-end offensive talent will help to take the burden off some of the lesser skilled players and allow them to contribute in roles their more accustomed to. Shipachyov will likely see a ton of time on the first powerplay unit and skate alongside scoring wingers like James Neal or Jon Marchessault right away.
The interesting thing about Shipachyov's two-year contract is that it comes without any trade protection. The 30-year old center could become one of the Golden Knights' best trade assets if he can show an ability to be a 40-50 point player in the NHL. It will be tough to move him though if a fan base falls in love with his slick puck work and playmaking ability, so we'll have to wait what the Golden Knights decide to do.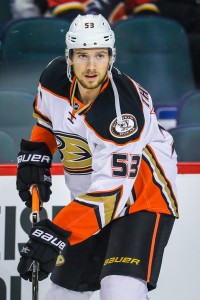 D Shea Theodore – For all the fanfar Neal and Marc-Andre Fleury received when they were selected in the expansion draft, the real jewel of the process was Theodore. The Anaheim Ducks were willing to give him up to see Clayton Stoner taken off their hands, mostly because of the pipeline of young defense talent the team has built. Make no mistake, Theodore isn't a failed prospect. His potential is still immense, and at 22-years old he could quickly become the Golden Knights' best defenseman and remain that way for a long time.
While generally the Golden Knights went after draft picks and tradeable assets, Theodore stands out as a potential franchise-defining piece. Selected 23rd-overall in 2013, his game has developed from a purely offensive style to a more well-rounded puck mover. He'll likely never be a shut down option, but could play a role similar to someone like Morgan Rielly or Alex Goligoski blending quick defensive zone outlets with a bit of offensive upside.
Key Storyline: Vegas needs to find a middle ground between showing enough talent and excitement to start building a hardcore fan base, and finishing low enough to capitalize on their 2018 draft picks. They have accumulated several picks in 2019 and 2020, but next year's draft—which projects to be one of the deeper groups in several years—is the most important one right now. After adding an impressive group of young talent in Cody Glass, Nick Suzuki, Erik Brannstrom and Nicolas Hague this year, another top-five pick could create a core that will allow them to compete sooner than many think.
That's not to say the team shouldn't be looking to win, but when the trade deadline rolls around a fire sale should be in order basically regardless of their position in the standings. Neal, Marchessault, and others like Colin Miller and Brayden McNabb will likely fetch hefty asking prices if Vegas is willing to deal, only adding to their prospect pool in the coming years. By pumping these assets full of easy zone starts and powerplay time, they could get an even better return on investment.