Recently bought out Anaheim Ducks defender Simon Despres has decided to take his talents to Russia, signing with Slovan Bratislava for one season (h/t to our friends at Roster Resource for pointing it out).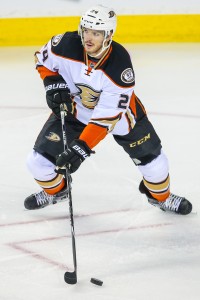 Despres, 26, was one of the most disappointing stories in the NHL last season, playing just a single game because of concussion symptoms. He started skating with the team late in the season and through the playoffs, and was well enough to be bought out in June. He was just one year into a five-year extension he signed in the fall of 2015, that was worth a total of $18.5MM.
It's interesting that Despres couldn't find work in North America, as he was once regarded as quite the young defenseman. After a breakout season in 2014-15 split between Pittsburgh and Anaheim in which he scored 23 points and was quite capable in his own end, nothing has gone right for him. He'll instead look to prove his health and rebuild some of that value in the KHL, while being paid ~$660K by the Ducks for the season. The team was able to save two-thirds of the remaining salary since the buyout was performed while Despres was still 25.
After missing the KHL playoffs last season Slovan also added Marek Mazanec from the Nashville Predators this offseason, and will try to improve next year. The team is known for giving NHL players chances, and had Jonathan Cheechoo, Jeff Taffe and Kyle Chipchura all playing big roles last year. It wouldn't be surprising to see Despres return to the NHL in 2017-18 if he proves his injury problems are behind him.
Photo courtesy of USA Today Sports Images