Generally speaking, there isn't much of a market for 38-year-old defensemen with plenty of mileage on them.  However, Andrei Markov is looking to buck that trend and is currently the most prominent blueliner remaining on the open market.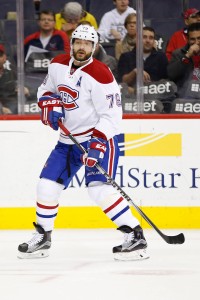 Markov has been with the Canadiens since they drafted him in the sixth round (162nd overall) back in 1998.  Montreal went into last season looking to reduce his role and ice time after he logged nearly 24 minutes per game the previous year.  They did just that for the majority of the campaign but by the end, he was back on the top pairing, something that carried through into the postseason.
Despite missing 19 games due to a groin muscle injury, Markov still had a fairly productive season, collecting 36 points (6-30-36) in 62 contests, ranking his 16th league-wide in points per game.  He followed that up by logging over 26 minutes per night in the playoffs, showing he can still handle a big role when he needs to.
It's a combination of those two factors that have Markov continuing to push for a two-year deal, something that would have seemed highly unlikely just a few months ago.  At this point, there have been no takers which is why he's still a free agent.
Potential Suitors
The Canadiens are the obvious one here.  GM Marc Bergevin has publicly stated that they would like to bring him back and Markov said after the season that he would like to return.  While they added Karl Alzner in free agency, he doesn't exactly replace the offensive production that Markov brings to the table.  However, Montreal is only willing to offer him a one-year deal and last week, Bergevin voiced some frustration over the asking price.
Assuming that Markov isn't likely to sign with a rebuilding team at this stage of his career, his market is limited to teams with postseason aspirations and a fair amount of cap or budget space available.  That's a fairly small list overall.
Among the teams on that list would be the Oilers, who have the money for one year before Connor McDavid's contract kicks in and they'll be without a key cog in Andrej Sekera to start the season so there's an important role that Markov could fill.  Florida is looking to rebound after a tough 2016-17 season and have the cap space to work with although signing him would push their defensive payroll close to $29MM.  The Devils have plenty of cap space and could up the ante financially but given where they are in their rebuilding process, Markov isn't going to be the player that pushes them over the top.
Projected Contract
Last month, we projected a one-year, $5MM deal for Markov with Montreal, who ranked 14th on our top-50 list.  Given the last of options and the unwillingness of teams to give him his two-year, $12MM asking price, there's a good chance that his new contract will still come in at or around that dollar value.  The bigger question at this point is whether he'll return to the only NHL team he has ever played for or if he'll look to finish his career elsewhere.