It seemed as though the writing was on the wall when the Montreal Canadiens signed Mark Streit to a one-year deal this week, and now it is official. The team announced today that Andrei Markov will not return to the Canadiens for the 2017-18 season. Fans had been holding out hope as recently as Tuesday, when we polled our readers to see where they thought Markov would land. Montreal won easily, with over 18% of the vote.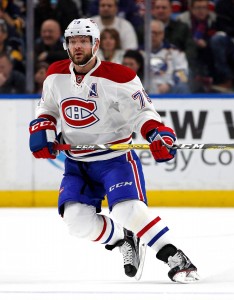 Interestingly, Eric Engels of Sportnet reports that Markov had not yet made contact with other teams about his future, though that is obviously going to change with this announcement. The 38-year old played 990 games with the Canadiens over a 16-year career, registering 572 points and will go down as one of the greatest defensemen ever to pull on the sweater. He is second all-time among Montreal defenders in points, an incredible mark for such a storied franchise.
Markov had been rumored to be after a two-year $12MM contract from the Habs, but will likely have to settle for something less on the open market. Despite his obvious ability teams are wary of his age and foot speed, though neither hampered him at all last season. With 36 points in 62 games he remained one of the best puck-moving offensive defensemen in the league, a natural quarterback on the powerplay and an effective defender in his own end. While it's obvious that will eventually come to an end, he can still provide some high-level play for whichever team lands him.
Because it's so late in free agency it is tough to see where there are openings for Markov, as most of the contenders have already tried to fill their holes with other options. Dallas could have used him to help their left side but instead added Marc Methot to eat up minutes, while teams like Toronto, Tampa Bay and Pittsburgh gave multi-year contracts to less effective veterans. If Nashville didn't already have eight defensemen under contract, a reunion with friend and former defense partner P.K. Subban could be interesting.
Regardless of where he eventually ends up, this season should push him over the 1,000 game and 600 point mark, incredible feats from a sixth-round pick who some doubted would even make an impact at the NHL level. Markov has carved out quite a career for himself, one which deserves another chance at the Stanley Cup.