The Buffalo Sabres have re-signed young goaltender Linus Ullmark to a two-year contract worth $750K per season. Ullmark was set to become a restricted free agent, and needed to either be signed or qualified prior to the expansion draft in order for the Sabres to fill the goaltending exposure requirement.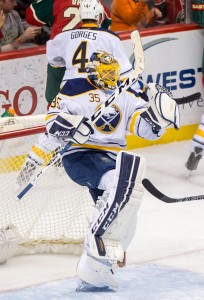 With Anders Nilsson heading to unrestricted free agency this summer, the opportunity for Ullmark to move up into a role as the backup goaltender is there for the taking. Lehner will more than likely remain the starter (though he also needs a new contract). Ullmark has shown in the past that he's up to the task, recording a .917 save percentage in 21 career NHL starts. Though the 23-year old had very little leverage, getting him under contract for two seasons at such a low cap-hit is a nice signing for Jason Botterill and the new Sabres front office. He'll continue to be a restricted free agent when it expires in the summer of 2019.
Botterill and whoever he hires as the Sabres next head coach will try to determine whether Lehner is the long-term option in net for the club. His .920 career save percentage is great, though he has shown some inconsistency at times. Ullmark represents a possible second option for the long-term, though he'll have to show that his weaker AHL numbers won't carry over into the NHL when given larger role.
He does also represent an interesting option for Vegas should they choose to select a goaltender from Buffalo, though there may be other options as discussed in our Sabres' Expansion Primer. At such a low hit, and still waivers-exempt he could provide depth at the position for Vegas as they look to slowly build up their organization. Even with the other options likely available to them, Ullmark could represent the best available asset from Buffalo.
Photo courtesy of USA Today Sports Images