The Carolina Hurricanes have made the first big post-expansion deal, acquiring Trevor van Riemsdyk and a 2018 seventh-round pick from the Vegas Golden Knights. The Golden Knights will receive Pittsburgh's 2017 second-round pick in return, originally acquired for Ron Hainsey at the trade deadline.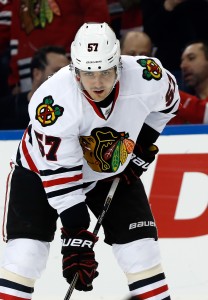 As noted last night, there was immediately chatter among insiders that the Golden Knights would immediately flip van Riemsdyk to Carolina, though nothing was certain after the fireworks that went on last night in terms of trades. This is one of the more interesting flips, as Carolina already has an excess of defenders on the roster and has been looking to move at least one for scoring help. Bringing van Riemsdyk aboard gives them even more leeway to make an upgrade at forward, with Justin Faulk perhaps being the most likely candidate to be on the move.
van Riemsdyk was selected from the Chicago Blackhawks last night in what was expected to be half of a side deal with the Vegas Golden Knights. We'd heard for weeks that the Blackhawks would send Marcus Kruger to Vegas as well, but with news breaking yesterday that Marian Hossa would not be able to play next season, suddenly things shifted. Chicago was no longer in such dire need of cap relief, though there is no guarantee things will stay that way. Kruger may still be in play at some point, especially if the league decides Hossa can't stay on LTIR.
For Vegas, this was the plan all along. Pick many more valuable assets than needed—in this case defensemen—and immediately flip them for prospects and picks that will benefit the team more down the road. Though van Riemsdyk is only 25 and could help the Golden Knights immediately, he's also a restricted free agent next summer and is likely due to get a hefty raise. His current contract—$825K this year—is so appealing to teams around the league that there were likely several suitors once Vegas got their hands on him.
In three seasons since turning pro out of the University of New Hampshire, van Riemsdyk has developed into more than just another NCAA free agent. He registered 16 points in 56 games this season (all at even strength), and was a solid possession contributor. He's clearly good enough to log more than the average bottom-pairing defenseman, but behind both Faulk and Brett Pesce there won't be much opportunity for that should they both remain.
Frank Seravalli of TSN was first to break the deal.
Photo courtesy of USA Today Sports Images