UPDATE: According to Yahoo's Greg Wyshynski, the NHL will make a decision on the Hossa situation and how to handle the cap circumvention and injured reserve eligibility for the Chicago Blackhawks before free agency opens on July 1st.
The Chicago Blackhawks announced today that due to a progressive skin disorder, forward Marian Hossa will not play hockey in the 2017-18 season. Hossa has apparently been dealing with the condition for several years. Elliotte Friedman of Sportsnet first reported the condition on Tuesday evening, saying that it likely means Hossa has played his final NHL game.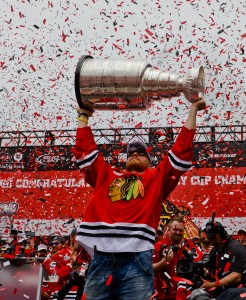 While this is by all accounts an extremely dangerous condition and everyone wishes Hossa health and recovery it will come with its share of skepticism. Despite his $5.25MM cap hit, Hossa is owed just $4MM total in salary over the last four years of his contract, a remnant of front-loading loopholes that have been closed in the last CBA. Should he have retired, as Friedman points out, the Hawks would have faced cap recapture penalties of $3.675MM for the next four seasons.
By staying on long-term injured reserve, Hossa is allowed to collect his $1MM salary and the Hawks can use the cap space during the season. His full cap hit will affect the team's plans in the offseason, but for a franchise who is continually fighting the salary cap this comes as something of a blessing in disguise.
We should be clear that no one wants Hossa playing through pain, discomfort or a life-threatening illness. In the statement, Blackhawks' team physician Michael Terry had this to say about the condition:
Marian has been dealing with the effects of a progressive skin disorder that is becoming more and more difficult to treat and control with conventional medications while he plays hockey. Because of the dramatic nature of the medications required and their decreasing effectiveness, we strongly support his decision not to play during the 2017-18 season.
This is a disappointing end to what has been one of the greatest careers of his generation. Hossa has registered 1,134 points in 1,309 games while being considered an elite defensive forward. He's received votes (but never won) the Selke in fourteen different seasons, and has been a part of three Stanley Cup victories with the Blackhawks.
He ranks 54th all-time in points in NHL history, ahead of Hall of Fame players like Joe Nieuwendyk, Frank Mahovlich, and Glenn Anderson. It would be surprising to not see him have his name enshrined there before long. His actual retirement will have to wait another four years.
Photo courtesy of USA Today Sports Images