Amid several pieces of information in the latest edition of Insider Trading on TSN, Pierre LeBrun reported that teams are "lining up" with interest for Sami Vatanen hoping Anaheim Ducks are indeed going to trade him to solve some of their expansion problems. LeBrun mentions the Toronto Maple Leafs, New Jersey Devils and the Tampa Bay Lightning in particular.
The Ducks have a real crunch on defense that has been examined multiple times this season. Interestingly, they have several young players—Brandon Montour, Shea Theodore and Jacob Larsson in particular—who could step into any holes created by a trade of Vatanen or another defenseman. The team will need to find a trade somewhere, as Vegas would be hard to convince to take someone other than whichever defenseman ends up exposed. Watching Vatanen or Josh Manson be shipped off to Sin City for nothing would be painful for a team who fancies themselves a real contender for the Stanley Cup.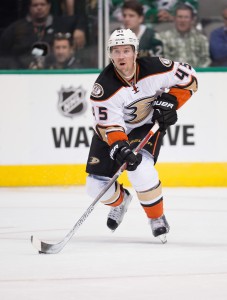 All of that is to say that Vatanen remains a real trade candidate this month, and it comes as no surprise that he has suitors all over the league. After another season with solid point totals and an average ice time number above 21 minutes, Vatanen projects as a solid addition to nearly every top-4 in the league. The fact that he is right-handed and comes with a sub-$5MM salary for multiple years makes him palatable to dozens of teams.
The three teams that LeBrun mentions are all coming off very different seasons, and demonstrate how widespread the appetite for Vatanen could be. The Maple Leafs, building on a surprisingly good season by their young stars could jump-start their contention window with a few defensive additions. With Nikita Zaitsev and Connor Carrick penciled in as the top two options on the right side, Vatanen could take on a substantial amount of responsibility.
In New Jersey, the team is still in a window when it needs to try and make the playoffs. With a core group in their prime right now, they're not quite in a rebuild and with a few tweaks could be right back in the postseason picture. The ironic part is that they dealt a right-handed defenseman last summer for Taylor Hall, but obviously could use an upgrade to the blueline for next season.
Tampa Bay was devastated by injury last season but is expected to be a contender not only for the playoffs but the Stanley Cup again next year. With a healthy Steven Stamkos and an improved blueline, they would be among the early favorites for the Atlantic division crown once again. While Victor Hedman has turned into one of the best all-around defensemen in the league, and Anton Stralman is still an underrated possession darling, the rest of the defense has not been as good.
Even though the Ducks are in a tough spot for the expansion draft, they remain in a great spot after drafting or developing a ton of good defenders. With Cam Fowler in extension talks after an outstanding year, they can now pick and choose which other players they keep for their current window. Should they make a trade, they'll be able to either restock a prospect cupboard that is anything but bare, or add to their NHL squad for another shot at the Stanley Cup next year.
Photo courtesy of USA Today Sports Images