In the latest edition of Insider Trading on TSN, Darren Dreger reported that the New York Islanders are among several teams have interest in Edmonton Oilers forward Jordan Eberle. Dreger makes it very clear that there is "no guarantee" that Eberle even gets dealt.
Eberle has been in the news lately as a possible trade candidate as the Oilers start to figure out how their salary structure is going to shake out with extensions for Connor McDavid and Leon Draisaitl. GM Peter Chiarelli recently admitted that they would likely have to move a player out at some point, and Eberle is one of the most expensive players on the roster currently (tied with Milan Lucic and Ryan Nugent-Hopkins).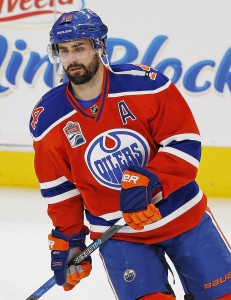 Chiarelli has shown he's willing to move out big-name players recently, with the trades of Taylor Hall and Nail Yakupov last year. While Eberle may not have quite the same value that Hall did when he recouped Adam Larsson, the 27-year old winger is one of the most consistent goal scorers in the league. He's scored at least 20 goals in all but one of his full seasons, and still has two years left on his contract before becoming a free agent.
The Islanders have been starved for top-line wingers for years, though their forward group did show improvement as the most recent season went on. Eberle would give them another right-handed option up front in what has been a very lefty-heavy group.
Dreger mentioned Travis Hamonic as a possibility, and as we examined yesterday moving him or another defender would clear up some of the expansion problems for the Islanders. The Islanders will have plenty of competition if Eberle really does hit the trading block, but have all the assets to acquire him if they want to.
Photo courtesy of USA Today Sports Images