After being eliminated by the Nashville Predators, the Anaheim Ducks are set to start up talks with Cam Fowler regarding a possible extension again, reports Pierre LeBrun of TSN. LeBrun tweets that "all signs point toward an extension" at this point. Just recently Elliotte Friedman was on NHL Network to discuss the possibility of Fowler hitting the open market in the summer of 2018, saying that he could earn as much as $56MM should he reach unrestricted free agency.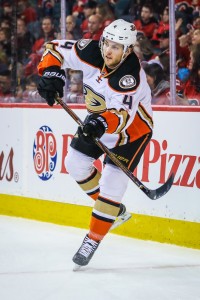 Fowler wouldn't technically be able to sign an extension until July 1st when there is just one year remaining on his deal at $4MM, but the two sides could certainly come to an agreement of sorts prior to that. Just a year removed from a ton of trade speculation surrounding the young defender, the team now seems ready to commit long-term. Fowler had an outstanding year, scoring 11 goals and registering 39 points in almost 25 minutes a night. He was used in all situations as a #1 defender, paired mostly with Sami Vatanen (though the Ducks shuffled their pairings often).
While Friedman's report does sound a little high—$8MM per season would put him behind just P.K. Subban and Brent Burns in terms of cap-hit among defenders—Fowler would be hitting the open market a year from now at just 26 with an eight-year track record of success. His youth, consistency and offensive upside would make him one of the most sought-after free agents on the marketplace (perhaps only behind John Tavares).
His extension talks obviously impacts what the Ducks will do prior to the expansion draft, as they don't want to lose Josh Manson (who currently projects as the odd man out) for nothing. Forcing a Vatanan or Manson trade only to see Fowler walk out the door in a year would devastate the Ducks defense group, even with the promising young starts of Brandon Montour, Shea Theodore and Jacob Larsson. There are just a few weeks to go before the draft, and time is running out for the Ducks to make a decision, provided they haven't already worked out a deal with Vegas to select a different player.
An extension for Fowler isn't the easiest thing to fit into the Ducks salary structure though. Even as Kevin Bieksa and Clayton Stoner come off the books next summer, both Montour and Theodore will need new deals as they exit their entry-level contracts, while Manson will be arbitration eligible for the first time. What it would do though, is provide some certainty that the left-handed duo of Fowler and Lindholm are locked in long-term, allowing you to pick and choose the other four pieces around them. Simon Despres, who resumed skating with the team in the playoffs but is still out indefinitely is a wildcard in the whole scenario who still holds a long-term deal that pays him $3.7MM per season.
Photo courtesy of USA Today Sports Images