The Vancouver Canucks have re-signed restricted free agent Erik Gudbranson to a one-year contract. The deal will pay Gudbranson $3.5MM next season. That's the same salary he was paid this season, after playing only 30 games before wrist surgery shut him down in December.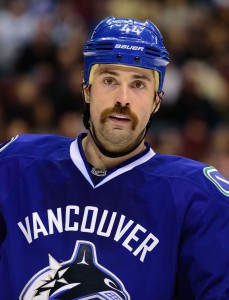 Gudbranson, 25, was acquired by the Canucks last summer from the Florida Panthers in exchange for Jared McCann a deal that was questioned by different sides of the hockey community for different reasons. On one side, Gudbranson has performed poorly by analytical metrics since entering the league as a 20-year old, and on the other were his physicality, pedigree and intangibles that were lauded in Florida as a young player. Gudbranson was selected third overall in the 2010 draft and has made good on the promise of a big, intimidating presence on the ice.
While his offensive game still lacks any real explosiveness, Gudbranson is still young enough to potentially refine his play in the defensive end to become a true shutdown defender. If he can do that, and prove that he fits into the top-4 on a team in the league, this short contract potentially sets him up as a 26-year old unrestricted free agent next summer. This will be Gudbranson's seventh season, making him eligible to hit free agency a year earlier.
If the team had wanted to buy out any of those free agent years, the cap-hit likely would have moved up as Gudbranson believes he can earn more on the open market. That just isn't acceptable for the club at this point, with him still unproven in the city as a part of their future.
With many rumors flying around about Chris Tanev possibly being on the move, Gudbranson has a chance to step into a big role with the Canucks and make himself a lot of money. Should he log over 20 minutes a night again this season, he could demand a very long deal as a young right-handed defenseman on the open market.
Photo courtesy of USA Today Sports Images