We're continuing to break down each team's situation as it pertains to the 2017 NHL Expansion Draft, coming up next week: which players are eligible, and which will likely warrant protection or may be on the block. Each team is required to submit their protection lists by 4pm CDT on June 17th. The full rules on eligibility can be found here, and CapFriendly has provided a handy expansion tool to make your own lists.
The Calgary Flames came into this season with a new head coach, a new starting goaltender and a familiar goal: get back to the playoffs. They'd missed in 2015-16 for the sixth time in seven seasons, but had added a good young player in Matthew Tkachuk who would provide more than anyone expected of him as a teenager, and had signed the duo of Johnny Gaudreau and Sean Monahan long-term.
The goaltending tandem of Brian Elliott and Chad Johnson had what you would call a roller coaster season, struggling at times before catching fire to get the team into the playoffs. As with any up there must come a down, and down it came in the first round as Elliott posted just an .880 save percentage and was yanked after just one goal in the deciding fourth game. The Flames will lick their wounds and try to find a different option in net this summer, while being at little risk of losing anything of value in the expansion draft.
Eligible Players (Non-UFA)
Forwards:
Johnny Gaudreau, Sean Monahan, Troy Brouwer, Michael Frolik, Mikael Backlund, Matt Stajan, Lance Bouma, Emile Poirier, Hunter Shinkaruk, Freddie Hamilton, Sam Bennett, Alex Chiasson, Micheal Ferland, Linden Vey, Curtis Lazar
Defensemen:
Mark Giordano, Dougie Hamilton, T.J. Brodie, Matt Bartkowski, Ryan Culkin, Tyler Wotherspoon, Brett Kulak
Goaltenders:
Notable Exemptions
Matthew Tkachuk, Daniel Pribyl, Dillon Dube, Josh Healey, Nick Schneider, Tyler Parsons, Jon Gillies, Oliver Kylington
Key Decisions
The Flames have put themselves in a fairly enviable position when it comes to the expansion draft, making savvy moves like signing Matt Bartkowski during the season to fill the defensive exposure requirements. Recently, GM Brad Treliving spoke about the difficulties some teams will have when deciding on their protection lists, and how Vegas will be hard-pressed to find NHL-caliber centers in the draft. That problem is emulated perhaps best by the expected protection on the Flames. They will likely choose the 7-3-1 protection scheme, allowing them to keep their depth down the middle.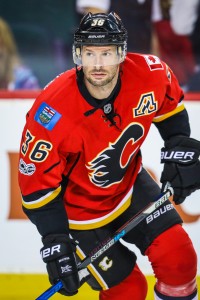 Up front, the Flames have just a few decisions to make on the back end of their list, as their five-man core (including three centers, Monahan, Mikael Backlund and Sam Bennett) are easy to point out. In the final two spots, the team will juggle some combination of Troy Brouwer, Curtis Lazar and Micheal Ferland, with the latter two likely earning the slots. Leaving Brouwer exposed is a tough decision to make just one year removed from signing him to an $18MM contract, but after a career-worst 25 points this season his contract may be all the protection he needs. After all, Treliving believes the Golden Knights will be acquiring assets instead of building a team, and Brouwer holds much less value than either of the other two young forwards.
Lazar, acquired at the deadline is another (part-time) center that will be unavailable to Vegas, even though he scored just four points in 37 games this season. The Flames gave up a second-round pick to get him from the Ottawa Senators, and still have big plans for his future in Calgary. The 22-year old was the 17th-overall pick in 2013, and will need a new contract this summer.
Ferland, a former fifth-round pick who has overcome a tremendous amount of personal struggle to even be in the NHL, found success alongside Gaudreau and Monahan at times and showed promise to become similar to what Brouwer has been throughout his career; a physical middle-six winger capable of adding some secondary scoring. While his 25 points are nothing to write home about, he is only 25 years old and showed that he may be capable of a 20-goal season at some point in his career.
There is the possibility Calgary could surprise and protect one of Hunter Shinkaruk or Alex Chiasson, both of whom are former high picks (24th and 38th respectively) that have shown either potential or performance at times throughout their career and are still young enough to contribute to Vegas. Both are long-shots, but could present some value for the Golden Knights if left available.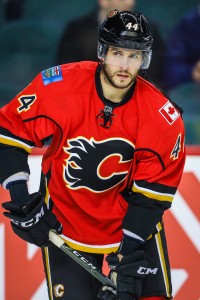 On defense, there isn't much debate on the three who will be protected. Mark Giordano, Dougie Hamilton and T.J. Brodie are easy choices, and the reason Bartkowski was acquired in the first place. None of the other potential unprotected defensemen fulfill the requirement of a player who is signed through 2017-18 and played either 40 games this season or 70 the last two combined.
In net, the team actually only has Tom McCollum among non-UFA goaltenders, and signed him earlier in the year in order to fulfill the goaltending requirements. That means they could potentially re-sign Johnson or Elliott before the draft, or acquire another goaltender that would need protection. Marc-Andre Fleury, who has waived his no-trade clause in order to go to Vegas but is still an option for Calgary, as are several of the elite backups around the league. The Flames could go after Antti Raanta, Philipp Grubauer, Aaron Dell or Calvin Pickard in order to provide some value to a team afraid of losing them for nothing, but with such a strong goaltending pipeline may look to the free agent market instead for a shorter term option.
The Flames do have one interesting name when it comes to a free agent Vegas may be interested in: Michael Stone. The 27-year old defenseman is right-handed and has logged big minutes for Arizona in the past. His two-way game fit in quite well with the Flames, but they'll have to wait to re-sign him until after the draft which gives Vegas an opportunity to talk with him in their exclusive window. If the Golden Knights thinks a long-term deal with Stone is worth more than one of the forward cast-offs, perhaps he is a target for them next week.
It's worth mentioning that Linden Vey, who may have deserved protection a few years ago is set to play in the KHL next season and will likely be off the radar of both the Flames and Golden Knights. Calgary is expected to qualify him in order to retain his rights for the time being, but will not get to see him in the lineup this year.
Projected Protection List
F Johnny Gaudreau
F Sean Monahan
F Michael Frolik
F Mikael Backlund
F Sam Bennett
F Micheal Ferland
F Curtis Lazar
D Mark Giordano
D Dougie Hamilton
D T.J. Brodie
The Flames are in a good spot for the next few days, able to calmly assess the goaltending market and perhaps help a team out of a jam by taking an asset off their hands. When one of the worst things the team can lose is an overpaid 31-year old year old winger with three years left on his deal, you know you've done good work setting yourself up for the draft. It will be interesting to see which forwards fill out the last few spots, and even more interesting to see who Vegas decides to go with for their selection. Will it be a veteran player who can add leadership to an expansion franchise, or a lottery ticket from the minors who could develop into something under the right coaching?
In all, the team can look ahead to a summer filled with tougher tasks like RFA negotiations, rebuilding the bottom half of their defense and finding an answer in net. Some of those may be answered in the next few days, but more likely will stretch into July. With ample cap space and several vacant positions, Calgary will be one of the most interesting teams to follow in free agency.
Photos courtesy of USA Today Sports Images