We're continuing to break down each team's situation as it pertains to the 2017 NHL Expansion Draft, coming up next week: which players are eligible, and which will likely warrant protection or may be on the block. Each team is required to submit their protection lists by 4pm CDT on June 17th. The full rules on eligibility can be found here, and CapFriendly has provided a handy expansion tool to make your own lists.
Two days ago, the Nashville Predators' dream season came to an end. A goal scored from nearly behind the net (after a much disputed quick whistle earlier in the game) put the Pittsburgh Penguins up 1-0 in Game 6 of the Stanley Cup Final, a lead which they would not relinquish. The Predators would have to watch on home ice while the Penguins celebrated winning the trophy, before saluting a crowd that had witnessed the longest playoff run in team history.
Now, they'll head into the offseason with a bittersweet taste in their mouths from getting so close, and with some huge decisions to make with regards to the future of the team. Ryan Johansen and Viktor Arvidsson lead a large crop of restricted free agents that need new contracts, while both James Neal and Juuse Saros could be up for extensions as they have just one year left on their respective contracts. The Predators are one of the most interesting teams when it comes to the expansion draft, as their glut of defenders will likely force them to leave some other intriguing players available to Vegas.
Eligible Players (Non-UFA)
Forwards:
Filip Forsberg, James Neal, Craig Smith, Colin Wilson, Calle Jarnkrok, Cody McLeod, Colton Sissons, Miikka Salomaki, Cody Bass, Trevor Smith, Austin Watson, Ryan Johansen, Pontus Aberg, Viktor Arvidsson
Defensemen:
P.K. Subban, Roman Josi, Mattias Ekholm, Ryan Ellis, Andrew O'Brien, Matt Irwin, Yannick Weber, Anthony Bitetto, Petter Granberg, Jaynen Rissling
Goaltender:
Pekka Rinne (NMC), Marek Mazanec
Notable Exemptions
Kevin Fiala, Victor Ejdsell, Vladislav Kamenev, Emil Pettersson, Frederik Gaudreau, Juuse Saros
Key Decisions
One of the tough parts about being a Stanley Cup contender is usually most of your core players are in or entering their prime and thus would be eligible for expansion. That's the case in Nashville, where virtually all of their key players will need protection in the draft. The first decision they have to make is whether to use the 7-3-1 (seven forwards, three defensemen, one goaltender) or 8-1 (eight skaters, one goaltender) protection scheme. The Predators will most likely choose the latter, because of their deep defense corps.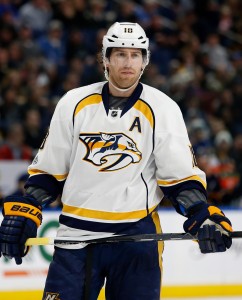 James Neal" width="242″ height="300″ />
Sometimes called a group of four #1 defenders, hyperbolic superlatives aside the Predators have one of the best groups among any blueline in the league. P.K. Subban, Roman Josi, Mattias Ekholm and Ryan Ellis all have incredible value, mostly because of the relatively low cap-hits held by the latter three. Leaving any of them available for Vegas would assure they were the selection, meaning that the team will likely only have four slots remaining for the forward group.
Beyond those four, only Matt Irwin holds any real value. The 29-year old defenseman has played well at times in a sheltered role in the NHL, developing into a legitimate option for any third pair in the league. Despite this, he would be an extreme long-shot to be selected by Vegas. Yannick Weber, re-signed just earlier today is even further removed from consideration.
Up front, four slots would leave several players available for the Golden Knights to pounce on. Three will undoubtedly go to Johansen, Arvidsson and Filip Forsberg while the last spot has several options. Today, Pierre LeBrun of TSN speculated on this decision, saying the team could potentially leave Neal unprotected and use it on Calle Jarnkrok instead. Neal is a 29-year old power forward who has scored at least 20 goals every season of his nine-year career. Earlier this year we looked at just how rare his career performance has been, making him an incredibly appealing option for Vegas should he be left exposed. Even though Neal has just one year left on his contract, he would likely be the most talented forward that the Golden Knights could acquire.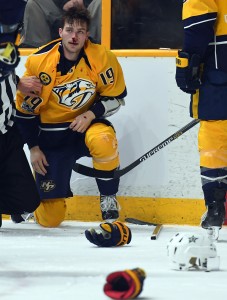 Jarnkrok on the other hand is an intriguing option, given the inexplicably cheap contract he signed last summer. At the age of 24 and coming off a 16 goal season, Jarnkrok signed a six-year $12MM contract that bought out several free agent years. Clearly it seems to matter more to him where he plays than how much he earns, as he easily could have made more on the open market when he reached unrestricted free agency. That cost-certainty is appealing to Vegas, as is his ability as a middle-six center that can contribute at both ends of the rink. Centers will likely be the most difficult thing for the Golden Knights to acquire through the draft, and they would likely jump at the opportunity to acquire one that just averaged 17 minutes a night on a team that made it to Game 6 of the Stanley Cup Final.
There is also the problem of Colton Sissons, who before the playoffs would have been an afterthought in the expansion draft plans. When Ryan Johansen and Mike Fisher went out with various injuries though, Sissons stepped up and scored more points in his 22 playoff games than he did all season. He showed that there may be more to him than a bottom-six center, and given the right opportunity could thrive with more responsibility.
In net, Pekka Rinne would likely be protected even if he didn't have the no-movement clause that makes it automatic. Rinne was a big part of how the Predators did so well in the playoffs, and at 34 put up another solid season. Though he's owed a lot of money—$7MM per season for the next two years—he'll likely enter next season as the starter once again as the team eases Saros in as the future in net. Saros' exemption is a big plus for the team, as the 22-year old looks like one of the best young goaltenders in the league after posting a .923 save percentage as a rookie in 19 starts this year.
Among free agents that the Golden Knights may be interested in negotiating with during their exclusive window, only Mike Fisher really stands out. The captain of the Predators is 37 now and though he had a fantastic season for his age—18 goals and 42 points—wouldn't provide much value for the Golden Knights who figure to struggle the first few years. Other than that, the team could try to negotiate a long-term deal with someone like Pontus Aberg, who showed he may have a future in an NHL top-six and could be tempting should they have a contract in hand by the end of the window.
Projected Protection List
F Filip Forsberg
F Viktor Arvidsson
F Ryan Johansen
F Calle Jarnkrok
D P.K. Subban
D Roman Josi
D Mattias Ekholm
D Ryan Ellis
The Predators are another team that is likely desperately trying to work out a deal of some sort with the Vegas Golden Knights or any other team, as letting Neal walk for nothing would be foolish. He's still young enough that he can provide value for basically every team in the league, and wouldn't be hard to find a suitor even on the last year of his contract. He does hold a limited no-trade clause, but it only allows him to block trades to eight teams around the league. Along with Sissons, Craig Smith, Colin Wilson and others, the Predators are ripe for the picking up front and could easily provide the Golden Knights with one of their best players.
Photos courtesy of USA Today Sports Images