The hockey world mourns today, as Jim Matheson of the Edmonton Journal passes along some tragic news. Dave Semenko, long-time Oiler and running mate of Wayne Gretzky, has died after a battle with cancer. Semenko was just 59 years old. The Oilers released a statement: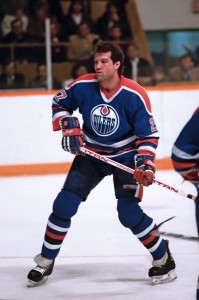 It is with great sadness we announce the passing of Oilers legend Dave Semenko after a short, but courageous battle with cancer. Dave will be remembered as a fierce competitor, loyal teammate, fan favorite and dear friend to so many. His legendary toughness on the ice is surpassed only by his kindness and caring for others, and his equally legendary wit and sense of humor.

Our hearts go out to Dave's family and many friends.

Once an Oiler, Always an Oiler
Semenko was a force for the Oilers in the 1980s, riding shotgun with Gretzky to make sure no opponent took any cheap shots. His role was clear, but it didn't stop him from enjoying when he did score. In fact, he tallied the final goal in WHA history before Edmonton was absorbed into the NHL, a tap-in at the side of the goal with just 12 seconds left in the final Championship game. The Winnipeg Jets would win that game and the title, but Semenko would get his revenge a few years later when he and the Oilers hoisted back-to-back Stanley Cups in 1984 and 1985.
Our former colleague Brett Barrett, who now works for Global News in Edmonton, grew up an Oilers fan and put it simply when asked.
"He was an absolute legend."
It's true, Semenko was spoken highly of by nearly every single person in the hockey community, mostly mentioning his genuine sense of humor and good nature, despite the angry monster he was on the ice. Semenko had worked in radio, as an assistant coach and in a scouting capacity since retirement and even played in the recent alumni game between the Oilers and Jets. He'll by missed by everyone who cheered in awe of him both for and against, and everyone here at PHR wishes his family the best through this tough time.