After hearing earlier today that Brendan Smith may have a bigger offer from New York than anyone else, the two sides have agreed to terms and will bring back the defender on a long-term contract. The deal is expected to be for four years with an average annual value of $4.35. It also includes some sort of no-trade clause for all four seasons. In our free agent rankings where Smith placed 12th, we had him signing a four-year deal worth $15MM, but he is clearly set to eclipse that number.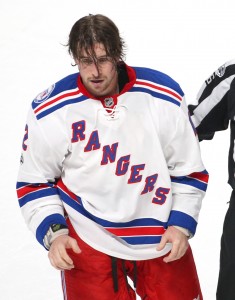 Smith fit in quite well with the Rangers after being acquired at the trade deadline from the Detroit Red Wings, logging over 20 minutes a night for them down the stretch and being a big part of their playoff run. The left-handed defenseman has experience playing both sides, and could be asked to play his off-side now that Dan Girardi has been bought out. The Rangers have Ryan McDonagh and Brady Skjei locked in on the left side, and though newcomers Neal Pionk and Anthony DeAngelo are both right-handed, neither may be ready to start the year with the club.
It's that versatility that made Smith so valuable on the open market, and has provided what may seem like a slightly overpriced contract. He had been playing on a $2.75MM cap hit, but at 28 was looking for a solid long-term deal. With the new cap hit, the Rangers will be left with between $15-16MM for now, though many things could still be done to impact that. The team still needs to sign restricted free agents Mika Zibanejad and Jesper Fast to new contract, while replacing Derek Stepan and Antti Raanta who they traded to the Arizona Coyotes.
This contract is not without risk, as Smith scored just nine points last season and isn't very offensively gifted. He'll never be a big point producer even if he plays with McDonagh, but what he can do is defend and do it well. He's reliable in his own end and is willing to engage physically when the time is right (though that isn't a huge part of his game). Mostly, he can do a little bit of everything and not hurt you with any bad mistakes. That's valuable to any team, and apparently worth a hefty sum on the open market.
Bob McKenzie of TSN was first to report the deal.
Photo courtesy of USA Today Sports Images