As the Vegas Golden Knights enter the league, another destination for bad contracts has appeared. Previously limited to places like Arizona and Toronto, the Golden Knights are likely to be involved in several transactions that help cap-troubled teams rid themselves of painful deals. Already it has been reported that Chicago may give up a young defenseman in order to move Marcus Kruger's cap-hit, and Columbus may be in the same boat. On Sportsnet radio this morning, Elliotte Friedman mentioned that the Blue Jackets have been trying to get Vegas to take David Clarkson's contract off their hands.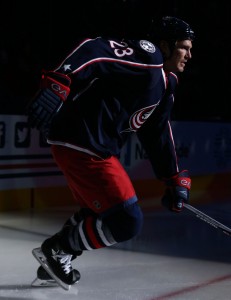 When he was acquired from the Maple Leafs in early 2015, Clarkson's deal was already bad. He was in just the second year of a massive seven-year, $35.75MM deal and already looked a decade removed from the 30-goal performance (and subsequent 15-goal season in the lockout-shortened 2012-13) that had earned it. The reason Columbus was interested in all, is the fact that they could send Nathan Horton's equally bad contract back, seeing as how he would never play hockey again. Horton had a degenerative back injury that would force him to retire, and his contract wasn't insured. The prevailing thought at the time was "at least Clarkson is a healthy body that can play some games for us."
Now, two years later, Clarkson is also retired due to injury but remains a dark stain on the Blue Jackets' cap structure. Though he'll sit on long-term injured reserve (LTIR) for the three remaining years and his contract is insured, giving the Blue Jackets some financial relief, it still impacts what the team can do in the offseason. Injured players can't be placed on LTIR until the season begins, meaning they have $5.25MM less room each summer in which to work. Also, though LTIR allows you to go over the salary cap any performance bonuses by entry-level players would be pushed to the next season like they will in Toronto this year.
If the cap were to remain flat this summer, the Blue Jackets would have just under $3MM to spend even though Alexander Wennberg and Josh Anderson (among others) need new deals as restricted free agents. Though you can go up to 10% over the cap at any point, it needs to be in order by the last day of training camp. Moving out Clarkson's contract would seem imperative, and as Friedman says the Blue Jackets have been trying to figure out what "sweetener" can they put in to make it palatable for Vegas. Again, Clarkson isn't going to play this year or any other. He's currently coaching high school hockey in Ohio. He's not eligible for selection in the expansion draft, but that sweetener could come by Columbus exposing someone or something unexpected.
These are the ways Vegas will make their team competitive, not just selecting the aging-veterans or underperforming youngsters available in the draft. Their power comes in the idea of a blank ledger, one they can twist to their advantage over the coming months.