Though the Toronto Maple Leafs and their crop of rookie talent has been one of the most exciting story lines this year, the impressive season each of them has had may negatively impact the team's ability this summer. As reported by Chris Johnston of Sportsnet, the team will pay out a minimum of $5.37MM in entry-level bonuses this season, most notably to Auston Matthews who earned a whopping $2.85MM extra. The team could have to pay $5.5MM should Nikita Zaitsev be named to the all-rookie team, with his main competition being the Rangers' Brady Skjei and Flyers' Ivan Provorov assuming Zach Werenski gets the first defenseman spot.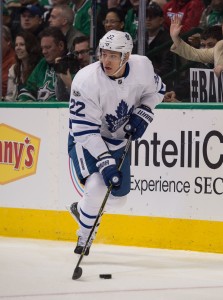 Johnston outlined the bonuses earlier this year, noting that because the Maple Leafs finished the season roughly $178K under the cap (according to CapFriendly), more than $5MM will be carried over to next year's cap in the form of an overage. The problem that poses is that teams must be salary cap compliant before the season starts, and before any player can be put on LTIR. Despite Stephane Robidas coming off the books for the Maple Leafs, the team still has $10.55MM tied up in Nathan Horton and Joffrey Lupul, and another $2.53MM locked up in Phil Kessel and Tim Gleason (retained salary and buyout respectively). That means nearly $20MM of the rumored ~$76MM cap will be consumed in dead money this summer for the Maple Leafs, not giving them much flexibility to improve the team.
Three of those rookies—Zach Hyman, Connor Brown and Zaitsev—will be restricted free agents this summer, and all deserve hefty raises from the sub-$1MM cap hits they had this season. Zaitsev in particular has reportedly agreed to a new deal that will pay him $4.5MM per season, eating a good chunk of the money the Maple Leafs will have to play with. With a backup goaltender and another defenseman on the shopping list, the team won't have a lot of cap space to use in the summer, but will have a ton come the season. It's an odd situation they find themselves in, but one their management team should be able to work their way out of. It is important to note that any team is allowed to be up to 10% over the cap at any point during the summer, but must be back down by the last day of training camp.
If there is anyone around the league who you'd be willing to bet has a way out of this situation, it's "Loophole" Lou Lamoriello, who has made a name for decades finding ways around salary issues. After such a successful season—regardless of whether they get past the Washington Capitals in round one—the Maple Leafs will be one of the more interesting teams to watch this summer and leading up to the expansion draft. Perhaps Vegas will be one of the ways they shed a contract, making a deal with the Golden Knights to take someone like Eric Fehr off their hands. Regardless, someone will likely be moved out this summer to give them a little bit of breathing room and perhaps a chance to take a run at one of the big free agents.
Photo courtesy of USA Today Sports Images